'The Intern' Trailer: Anne Hathaway Bosses Around Robert De Niro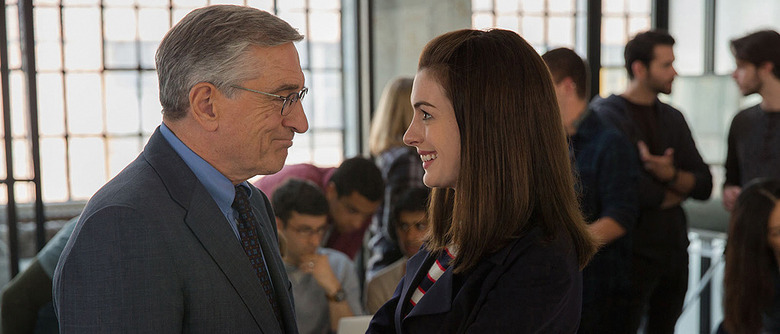 Anne Hathaway sure has come a long way from her Devil Wears Prada days. In her new movie The Intern, she's the hard-charging fashionista with a lackey of her own. Luckily for that lackey, played by Robert De Niro, she seems a little bit nicer than Miranda Priestly was. Watch The Intern trailer after the jump. 
Warner Bros. dropped the first The Intern trailer on YouTube.
Based on the premise, I expected The Intern to be wackier — sort of like The Internship, only with Robert De Niro instead of Owen Wilson and Vince Vaughn. But it's a Nancy Meyers movie, and like the best of those The Intern seems to hit that sweet spot between silly and sentimental.
There are some of the usual jokes about how the old guy doesn't get the Internet, and how today's young men aren't as dapper as their dads and granddads were back in their day. And of course Jules is a career woman who doesn't quite have her personal life together, because career women never seem to in the movies.
But the stereotypes and tropes aren't overdone. At its core, this is a movie about a sincere friendship that develops between two very different people. It's not the kind of relationship we see in films very often, and Hathaway and De Niro seem to click pretty well together. If you're in the mood for a bit of feel-good formula, The Intern could be one to look out for.
The Intern opens September 25. Also starring are Rene Russo, Adam DeVine, Nat Wolff, Andrew Rannells, and Anders Holm.
In "The Intern," Robert De Niro stars as Ben Whittaker, a 70-year-old widower who has discovered that retirement isn't all it's cracked up to be. Seizing an opportunity to get back in the game, he becomes a senior intern at an online fashion site, founded and run by Jules Ostin (Anne Hathaway).