'The Simpsons' Loses Harry Shearer, The Voice Actor Behind Mr. Burns And Ned Flanders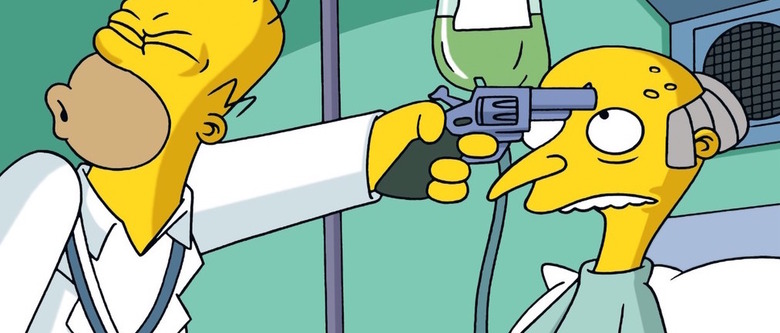 As The Simpsons heads toward a record-breaking run, one of its cast members is jumping ship. Harry Shearer, the actor behind some of Springfield's most prominent citizens including Mr. Burns, Ned Flanders, and Principal Skinner, has announced he is departing after 26 seasons on the show.
But just because Shearer is exiting, doesn't necessarily mean his characters are going with him. Find out more about The Simpsons Harry Shearer exit after the jump, including what the show's post-Shearer plans are, after the jump. 
Shearer announced his departure from The Simpsons on Twitter.
from James L. Brooks' lawyer: "show will go on, Harry will not be part of it, wish him the best.". (1/2)

— Harry Shearer (@theharryshearer) May 14, 2015
This because I wanted what we've always had: the freedom to do other work.
Of course, I wish him the very best. (2/2)

— Harry Shearer (@theharryshearer) May 14, 2015
Thanks, Simpsons fans, for your support.

— Harry Shearer (@theharryshearer) May 14, 2015
Showrunner Al Jean confirmed Shearer's exit in a statement. "Harry Shearer was offered the same deal the rest of the cast accepted, and passed. The show will go on and we wish him well. Maggie took it hard," he wrote.
Shearer has been with the show since the very beginning. The show wraps up its current 26th season this weekend. Besides Mr. Burns, Ned Flanders, and Principal Skinner, Shearer also voices Smithers, Otto, Reverend Lovejoy, Kent Brockman, Dr. Hibbert, Lenny, Scratchy, Ranier Wolfcastle, Kang, and more.
While Shearer will be missed, his characters will stick around. "We do not plan to kill off characters like Burns and Flanders but will recast with the finest voiceover talent available," said Jean. Still, it's hard to imagine anyone bringing these fan-favorite characters to life in precisely the way Shearer did.
This isn't the first time The Simpsons has been involved in a contract dispute with its voice cast, but it's the first time one has ended with a core cast member deciding to walk away. Nor is it the first time Shearer has demonstrated his displeasure with The Simpsons' treatment of its actors. Recently he slammed Fox for failing to recognize the cast when announcing the show's renewal.
Doesn't this show have a cast? http://t.co/gFGg8LI2n3

— Harry Shearer (@theharryshearer) May 5, 2015
When Fox renewed The Simpsons for Seasons 27 and 28, Shearer was the lone holdout. This, according to HitFix's sources, despite the show's offer to let Shearer record most of his job by phone, so he wouldn't be tied down to a physical location.
Outside of The Simpsons, Shearer is best known for his stint on Saturday Night Live and his work with Christopher Guest, including Spinal Tap and A Mighty Wind. He also stars in the web series Nixon's the One, in which he recreates the former U.S. president's Oval Office recordings.
Dan Castellaneta, Julie Kavner, Nancy Cartwright, Yeardley Smith, and Hank Azaria are all back for the next two seasons of The Simpsons. Production on Season 27 is already underway without Shearer.