'Jurassic World' Teams With Barbasol Shaving Cream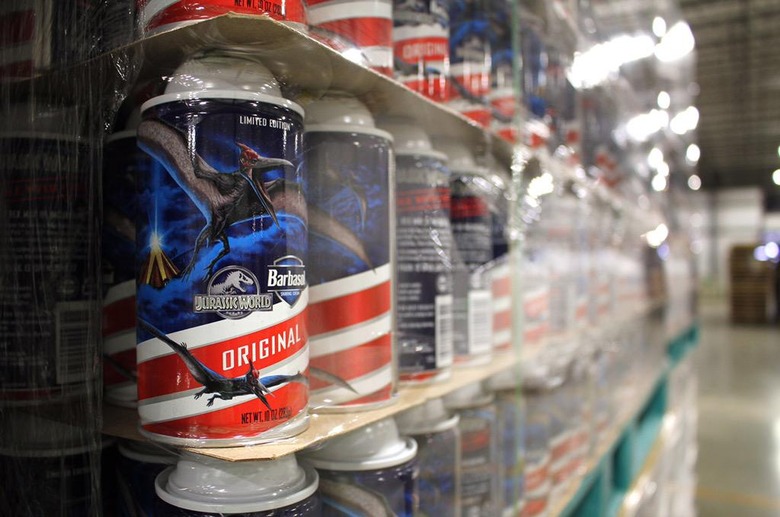 "What no menthol?" Dennis Nedry's interaction with the mysterious Dodgson in Jurassic Park is one of the film's funniest and most memorable scenes. Dodgson is paying Nedry to steal dinosaur embryos from the park and gives him a special Barbasol shaving cream can that doubles as a cooling container.
You've seen it. You know the scene. It's hilarious and in a brilliant marketing twist, Universal has teamed with Barbasol again, this time to release limited edition Jurassic World Barbasol shaving cream cans with art by Mark Englert. Find out more below.
Barbasol announced the deal on their Twitter, including this video:
They also tweeted out these photos:
Mark Englert, who did this amazing Jurassic World poster, did the art for these cans and gave the Barbasol people a little gift:
Thanks to artist @markenglert for the limited edition #Barbasol can design.

Coming to stores now! pic.twitter.com/vdu1KOnoZL

— Barbasol (@BarbasolShave) May 9, 2015
Plus, they're offering an Jurassic World Barbasol contest, which you can learn about here.
Win a Dino Dig Adventure Vacation! Plus, you'll be entered to win weekly Jurassic World prizes http://t.co/uiP5m2aEkp pic.twitter.com/JuOA8BA8fi

— Barbasol (@BarbasolShave) May 1, 2015
It's a smart team up, one that probably get overlooked in the 1993 original. Will you be picking up some Jurassic World Barbasol shaving cream?
Additional source: Mary Sue