Watch 'Black Angel,' The Long-Lost Short That Ran With 'Empire Strikes Back'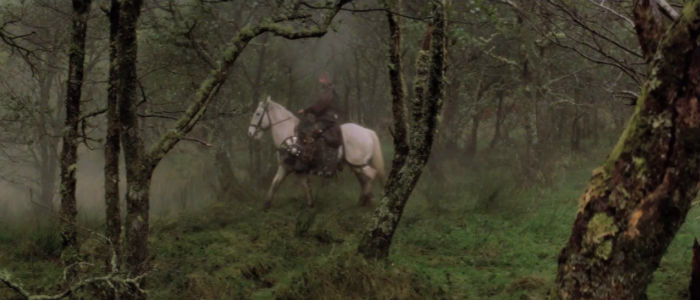 These days, Disney is the rare studio still putting short films in front of some of their features. Coincidentally, a famous company they'd eventually own did that several decades earlier. In 1980, George Lucas wanted a short film to screen in front of his highly anticipated sequel to Star Wars, The Empire Strikes Back. He got his art director, Roger Christian, to make a short, and the result was Black Angel, a fantasy that was heavily influential in the years that followed. It played in a few hundred UK cinemas but prints of the film were thought to be lost.
A few years back, Christian teased that the film had been found and would get a digital release in the future. That day is today. Black Angel has now been uploaded online and you can watch the full 25 minute short film below, along with an intro from Christian himself.
Here's Black Angel with an introduction from Roger Christian. He talks about the production, influence and eventual mystery around the film.
Black Angel Short Film
Christian also promises that some news on the film will arrive on June 2, to be announced on the film's social media channels. You can find those here and here along with the official site.
Here's the official description:
As viewers sat down to watch 'Star Wars Episode V: The Empire Strikes Back' in 1980, they were shown a short film. It was so mysterious and dark that many never forgot it. Its name was Black Angel.
The project began when Roger Christian, Art Director on 'Episode IV: A New Hope', was given the green light by George Lucas to turn his fantasy script into a short film. Having spent years designing droids and space stations, he now set about creating a medieval fantasy world, the likes of which the world had never seen before. Check out the original poster on the right, by artist Mark Raats.
But then it was lost. For decades, it was thought the film had gone the way of Han Solo, frozen in time. But then, in 2011, a negative was discovered by complete chance, and painstakingly restored frame by frame. The legend has been brought back to life, and
it's available for you to watch on YouTube today.