Bradley Cooper To Reprise 'Limitless' Movie Role On 'Limitless' TV Series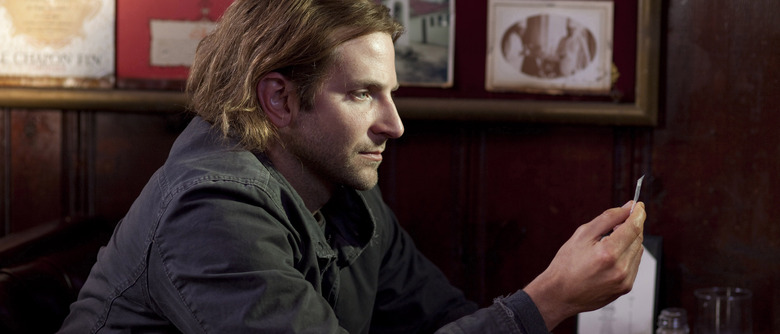 A-list movie star Bradley Cooper is returning to television. Cooper is set for a recurring role on Limitless, CBS' upcoming drama based on Cooper's 2011 thriller. He'll reprise his role as Eddie Morra, making the Limitless show a direct sequel to the Limitless movie. Cooper's American Sniper co-star Jake McDorman plays the new protagonist, Brian Finch.
Find out how the Bradley Cooper Limitless casting fits into the series after the jump.
Deadline reported on Cooper's casting. Cooper already has a guest star on the Limitless pilot directed by Marc Webb, and will recur "as much as his schedule permits."
Cooper additionally serves as an executive producer on the series, along with Webb, Alex Kurtzman, Roberto Orci, Todd Phillips, and more. It's pretty typical for movie stars to appear in TV shows they produce, but it's a bit more unusual for a movie star at Cooper's level to sign up for a recurring role.
The new series centers around McDorman's Brian Finch, a new character invented just for the show. He discovers he can unlock his brain's full potential by taking the mysterious drug NZT. When the FBI finds out, they coerce him into using his newfound abilities to help crack their cases.
That's the part we already knew. Here's the part we didn't know until now: Brian, it turns out, is also secretly in contact with Cooper's Edward Morra, a senator and NZT user with presidential ambitions. The subplot dovetails nicely with the Limitless movie, which ended with Cooper's character running for Senate.
Cooper began his career as a TV actor, appearing in The $treet, Jack & Bobby, and Alias. Even after his scene-stealing breakout in 2005's Wedding Crashers, he popped up in Kitchen Confidential and Nip/Tuck. In fact, he has yet another TV role coming up this summer: Netflix's Wet Hot American Summer: First Day of Camp, in which he'll reprise his first-ever film role as camp counselor Ben.
As for movies, he's coming off of American Sniper and Serena, and has three more coming up this year: Cameron Crowe's Aloha, John Wells' Adam Jones, and David O. Russell's Joy.