Marvel Courting 'Selma' Director Ava DuVernay, But For Which Movie?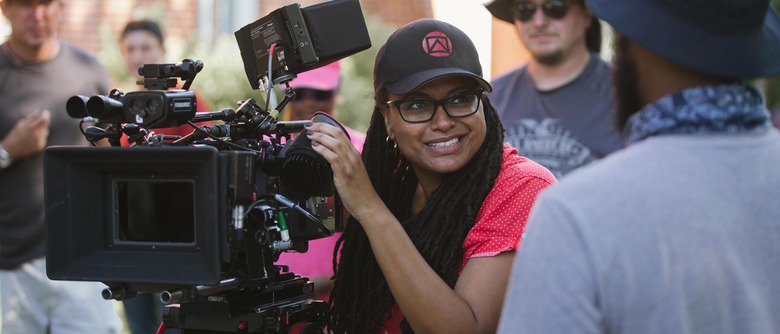 Marvel Studios has its eye on another fantastic filmmaker. Selma director Ava DuVernay is reportedly being courted for an upcoming feature. What's not clear is which film they want her for — Black Panther or Captain Marvel. More details on the possible Marvel Ava DuVernay deal after the jump. 
According to TheWrap, Marvel Studios definitely wants her for a "diverse" movie, likely Black Panther but also possibly Captain Marvel. Black Panther will be the first of the two to hit, on July 6, 2018. Captain Marvel is scheduled for November 2, 2018. The word is that the studio wants to hire a black filmmaker for Black Panther and a female director for Captain Marvel, but DuVernay, obviously, is both.
While the studio is still considering other candidates at this time, DuVernay is said to be interested in return. If DuVernay is hired, she'll be the first Marvel Studios director who isn't a white man. It's kind of bullshit that Marvel Studios has to wait for a "diverse" movie to hire a "diverse" director, but it'd be welcome news all the same. A $200 million blockbuster is the kind of opportunity that's rarely afforded to filmmakers who aren't white dudes.
The studio got close to breaking its white male director streak a few years back with Thor: The Dark World, but Patty Jenkins dropped out citing "creative differences" and Alan Taylor took her place. Ironically, Jenkins is now poised to become the first female director for Warner Bros.' competing DC superhero universe, having replaced Michelle Maclaren on Wonder Woman.
DuVernay has already proved her chops. She won the directing award at Sundance with Middle of Nowhere, becoming the first black woman to do so. And her most recent feature Selma was one of the best movies of 2014. She even has some superhero movie experience, but not as a director. As a publicist, she worked on the promotional campaign for Spider-Man 2.
Since Selma, DuVernay has directed the CBS drama pilot For Justice. She's also been working on a TV series for Oprah Winfrey's OWN network called Queen Sugar. And she's set to reteam with Selma star David Oyelowo for an as-yet-untitled Hurricane Katrina drama.
Black Panther will star Chadwick Boseman as the classic Marvel Studios hero, a Wakandan prince named T'Challa. Captain Marvel has yet to announce casting for lead Carol Danvers, although a script is in the works from Nicole Perlman (Guardians of the Galaxy) and Meg LeFauve (Inside Out).