Jennifer Aniston Might Star In 'Mean Girls' Spinoff 'Mean Moms'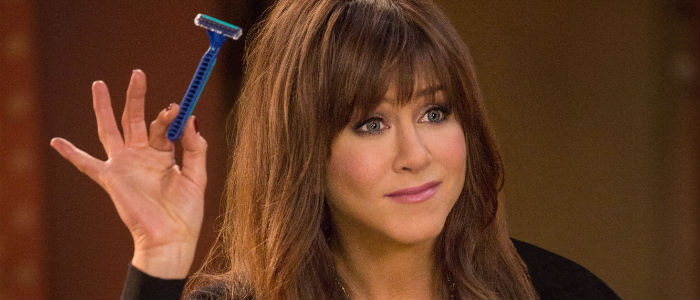 We may receive a commission on purchases made from links.
Now over a decade old, Mean Girls has become one of the most well-regarded teen films of the 2000s. Written by Tina Fey, directed by Mark Waters and starring Lindsay Lohan, the smart, saavy satire painted a believable, funny portrayal of high school life that's still speaking to audiences today. Fey's script, her first, was based on a book called Queen Bees and Wannabes by Rosalind Wiseman and now Wiseman's follow up is also getting the film treatment.
The film will be called Mean Moms, based on Wiseman's book Queen Bee Moms & King Pin Dads. Sean Anders (Horrible Bosses 2) will direct and Jennifer Aniston is potentially circling one of the leads. Read about the Mean Girls spinoff below.
Deadline broke the news of the Mean Moms movie which, as of now, shares no direct link to Mean Girls except the source material. Aniston hasn't signed yet so this she isn't officially attached but it's potentially in the works. New Line Cinema will distribute.
The full title of the book is Queen Bee Moms And King Pin Dads: Dealing With The Parents, Teachers, Coaches, And Counselors Who Can Make — or Break — Your Child's Future. So basically, think Mean Girls – that caddy, superficial competitiveness – but with parents. Here's the official description:
Queen Bee Moms & Kingpin Dads is filled with the kind of true stories that made Wiseman's New York Times bestselling book Queen Bees & Wannabes impossible to put down. There are tales of hardworking parents with whom any of us can identify, along with tales of outrageously bad parents—the kind we all have to reckon with. For instance, what do you do when parents donate a large sum of money to a school and their child is promptly transferred into the honors program–while your son with better grades doesn't make the cut? What about the mother who helps her daughter compose poison-pen e-mails to yours? And what do you say to the parent-coach who screams at your child when the team is losing? Wiseman offers practical advice on avoiding the most common parenting "land mines" and useful scripts to help you navigate difficult but necessary conversations.
Queen Bee Moms & Kingpin Dads is essential reading for parents today. It offers us the tools to become wiser, more relaxed parents–and the inspiration to speak out, act according to our values, show humility, and set the kind of example that will make a real difference in our children's lives.
Deadline says that will be boiled down to the following plot:
A happily married mother of two who moves from small-town America to the high–class suburbs suddenly must confront the cutthroat world of competitive parenting
Anders is co-writing the adaptation with John Morris. The pair previously co-wrote Horrible Bosses 2, Dumb and Dumber To, We're the Millers, Mr. Poppers Penguins, Hot Tub Time Machine, She's Out of My League and Sex Drive. That's a moderately successful string of films, but it doesn't quite inspire the confidence of a Tina Fey.
Still, I like the idea of Mean Moms and Aniston obviously could play one of these roles in her sleep. I mean that as a compliment. What do you think?