Eddie Redmayne Will Star In 'Fantastic Beasts And Where To Find Them'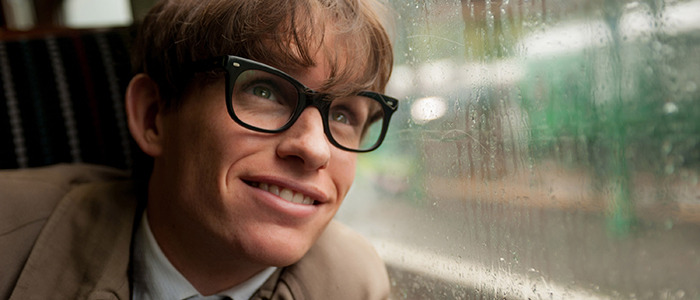 UPDATE: Warner Bros. has finally made this official. Read the full press release, including quotes from director David Yates, below.
The Harry Potter film series had the opportunity to find young new talent to fill the major roles the series followed for years, but for Fantastic Beasts and Where to Find Them the casting choices are a bit different. Well-established actor and recent Oscar winner Eddie Redmayne has been a top choice among several actors to play Newt Scamander, the lead character in author JK Rowling's book set in the Harry Potter world. Now the actor is in talks for the film, likely putting to rest speculation about who'll lead the film.
UPDATE: Here's the official announcement of Redmayne's casting. Original article follows:
Academy Award-winning actor Eddie Redmayne has been cast as Newt Scamander in Warner Bros. Pictures' much-anticipated wizarding world adventure "Fantastic Beasts and Where to Find Them." The announcement was made today by Greg Silverman, President of Creative Development and Worldwide Production, Warner Bros. Pictures.
Redmayne will play J.K. Rowling's creation Newt Scamander, the Wizarding World's preeminent magizoologist, who in his travels has encountered and documented a myriad of magical creatures, ultimately leading to his penning the Hogwarts School textbook Fantastic Beasts and Where to Find Them.
In making the announcement, Silverman said, "Eddie Redmayne has emerged as one of today's most extraordinarily talented and acclaimed actors. We are thrilled to welcome him into J.K. Rowling's Wizarding World, where we know he will deliver a remarkable performance as Newt Scamander, the central character in 'Fantastic Beasts and Where to Find Them.'"
Making her screenwriting debut on the film, J.K. Rowling has developed the character of Scamander and his primer—taken from her globally beloved Harry Potter series—to further explore the unique wizarding world she has crafted in print and bring it to life on screen.
David Yates, who directed the last four "Harry Potter" films and will direct "Fantastic Beasts and Where to Find Them," stated, "Eddie is a fearless actor, brimming with invention, wit and humanity. I couldn't be more excited about the prospect of working with him as we start this new adventure in J.K. Rowling's wonderful world, and I know she feels the same way."
The film is being produced by David Heyman, producer of all eight of the blockbuster "Harry Potter" features; J.K. Rowling; Steve Kloves, who scripted all but one of the "Harry Potter" films; and Lionel Wigram, who served as an executive producer on the last four installments of the franchise.
Eddie Redmayne won an Academy Award for Best Actor for his performance in the 2014 biopic "The Theory of Everything." His stunning portrayal of Stephen Hawking in that film also brought him Screen Actors Guild, BAFTA and Golden Globe Awards. In 2012, Redmayne starred as Marius in Tom Hooper's screen adaptation of the hit musical "Les Misérables," with Hugh Jackman, Anne Hathaway, Russell Crowe and Amanda Seyfried. In 2010, Redmayne won a Tony Award for his performance in "Red," which marked his Broadway debut. On screen, he next stars in Hooper's true-life drama "The Danish Girl," due out this November.
Warner Bros. Pictures has slated "Fantastic Beasts and Where to Find Them" for worldwide release in 3D and IMAX on November 18, 2016.
Deadline reports that Rowling's first script draft has been turned in, which gives Warner Bros. something to negotiate with, and Redmayne a solid plan for the film off which to base his decision. The role has basically been his to take or leave for a while now, and evidently Rowling's script has been enough to get him into deal-making mode.
While Fantastic Beasts is neither a sequel nor prequel to the Harry Potter story — it is just set in the same world, 70 years before Harry Potter's story — this film, the first of three planned movies, will be a Potter reunion. David Yates, who directed the last four Potter films, is set to direct. Executive producer Lionel Wigram served as executive producer on the last four films, and producer Steve Kloves scripted seven out of the eight Potter films movies.
And David Heyman, who produced all eight previous Harry Potter films, will produce the Fantastic Beasts series, which will consist of "at least" three movies.
Fantastic Beasts and Where to Find Them will be set in New York City circa 1920, about seventy years before the start of the Harry Potter series. The first film will follow the adventures of Newt Scamander, a "magizoologist" whose writings on magical creatures would go on to become required reading for Hogwarts students. It's currently set for release November 18, 2016 with the next two installments are dated for 2018 and 2019.