Dane DeHaan And Cara Delevingne Will Star In 'Valerian' From Luc Besson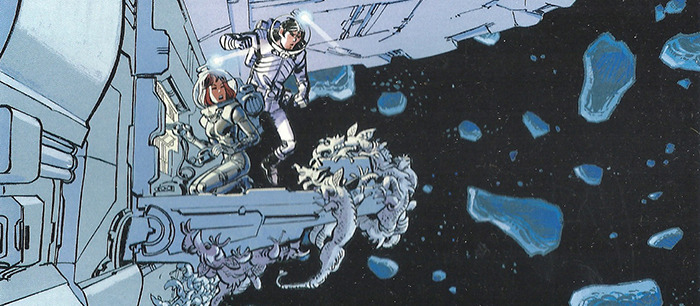 We may receive a commission on purchases made from links.
Luc Besson, coming off the surprise smash Lucy, is preparing to adapt a long-running and influential set of Belgian science fiction stories co-created by one of his visual designers on The Fifth Element. The Valérian and Laureline stories feature a pair of galactic adventurers on wide-ranging missions across space and time. The two characters debuted in 1967 in comics by Pierre Christin and Jean-Claude Mezieres, the latter of whom ended up working on The Fifth Element. Besson has planned to make a film adapting the comics for the past couple years, and now he's in position to move forward.
So Besson will write and direct his Valérian and Laureline movie — called Valerian and the City of a Thousand Planets, with Dane DeHaan and Cara Delevingne starring in the lead roles.
First, a bit about the characters:
The intrepid Valerian and his beautiful, sharp-witted and sharp-tounged partner, Laureline, are tow of the greatest agents for the vast Galaxity organization. Their missions have taken them across space and time. But now the Galaxity and their home earth have vanished as if they never existed. Along, and totally dependent on their own resources, they struggle to carve out a new life and a new future against intergalactic dangers form the past, present and future. English translations of French albums.
Luc Besson announced the film on Twitter, suggesting along the way that the second Valerian collection, The Empire of a Thousand Planets, would be part of the basis for the film. The idea is to shoot later in 2015 for a 2017 release.
First logo #Valerian pic.twitter.com/d68FIJhOuX

— Luc Besson (@lucbesson) May 12, 2015
Here's the press release from EuropaCorp:
DANE DEHAAN AND CARA DELEVINGNE TO STAR IN LUC BESSON'S ADAPTATION OF THE EPIC SCIENCE FICTION GRAPHIC NOVEL VALERIAN
The Visionary Filmmaker Luc Besson is Tackling one of the Most Iconic Sci-Fi Sagas: Valerian
(May 12th, 2015) – EuropaCorp announced today that Dane DeHaan (The Amazing Spider Man 2) and Cara Delevingne (Paper Towns) will star in Luc Besson's big screen adaptation of the epic science fiction graphic novel Valerian. DeHaan and Delevingne will play the iconic characters Valerian and Laureline. Besson, a master in the Sci-Fi genre coming off the blockbuster Lucy and the cult Sci-Fi opera The Fifth Element, will write and direct the film. Virginie Besson Silla will produce on behalf of EuropaCorp which will finance, produce and distribute the film.
Valerian, which has influenced generations of Sci-Fi writers and directors, was created by Pierre Christin and Jean-Claude Mezieres in 1967 and has since sold over 10 million copies in 21 languages. Production is set to begin at the end of this year with a global release slated for summer 2017.
The adaptation is EuropaCorp's most ambitious project as it continues to grow its slate which already includes THE TRANSPORTER REFUELED, the start of a new trilogy in the studio's highly profitable action franchise debuting September 4th, 2015, SHUT IN starring Naomi Watts, which will be released on February 19th, 2016, NINE LIVES starring Kevin Spacey and Jennifer Garner and directed by Barry Sonnenfeld, which will be released on April 29th, 2016 and THE LAKE, starring Sullivan Stapleton and Academy Award winner JK Simmons, which will be released on July 15th, 2016.