Anne Hathaway Joins Nacho Vigalondo's 'Colossal'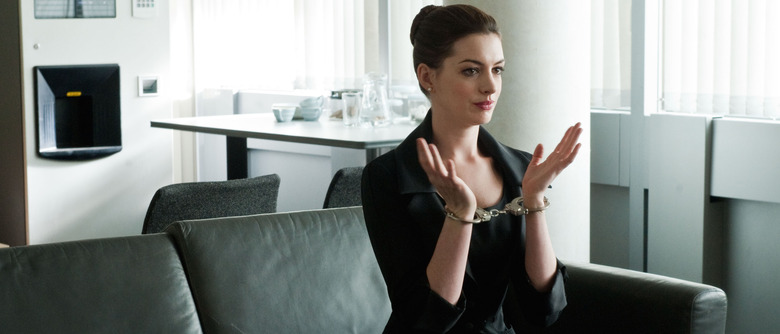 Anne Hathaway has done all kinds of movies over the course of her 15-year career, but even so this one sounds like a pretty offbeat choice for her. The Oscar-winning actress has just been set to star in Colossal, the latest movie by Timecrimes and Open Windows director Nacho Vigalondo. In simple terms, the film is being described as Godzilla (okay) meets Lost in Translation (wait, what?).
Get all the bizarre details on the Anne Hathaway Nacho Vigalondo Colossal project after the jump. 
THR reports Voltage Pictures is behind the new pic, which will be written and directed by Vigalondo. Hathaway will play Gloria, a perfectly ordinary woman who's suffered the perfectly ordinary misfortune of losing her job and her fiancé. She makes the perfectly ordinary decision to move out of New York and back to her hometown.
But when she hears reports of a giant lizard terrorizing Tokyo, Gloria comes to realize that she's connected to these strange and distant events through the power of her mind. On second thought, I guess "Godzilla meets Lost in Translation" is as good an elevator pitch as any for that movie.
This seems to be the "twist on the kaiju eiga genre" that Vigalondo teased last year. "It's going to be the cheapest Godzilla movie ever, I promise," he said at the time. "It's going to be a serious Godzilla movie but I've got an idea that's going to make it so cheap that you will feel betrayed."
Among other things, he revealed he wanted to use practical effects over CG. "I found a way that is honest and logical to make Godzilla in a costume, destroying cities, models all the time," he said, adding that it was his "dream" to be the guy in the Godzilla costume. Alas, the latest report doesn't mention whether he'll star with Hathaway as her psychically created monster, or just direct her.
In a more recent statement, Vigalondo talked up his new script and his new star. "Colossal is my most ambitious script so far, and probably also the most personal one," he said. "Having Anne and this terrific team around goes beyond my craziest expectations." Vigalondo received an Oscar nomination in 2005 for his short film 7:35 in the Morning.
Hathaway is coming off of Christopher Nolan's sci-fi adventure Interstellar and the musical indie drama Song One. Coming out next from her are the Nancy Meyers comedy The Intern, in which Robert De Niro plays her intern, and Alice Through the Looking Glass, the sequel to 2010's Alice in Wonderland.