Could An 'Arrow' / 'Constantine' Crossover Be In The Cards?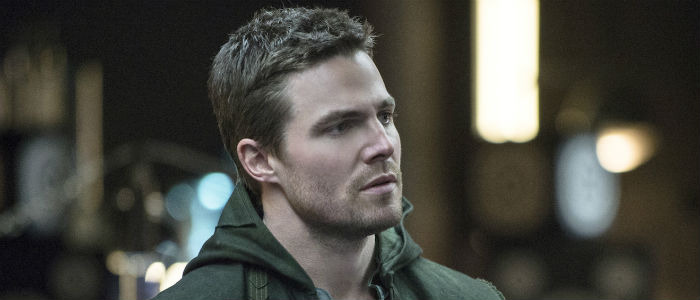 The #SaveConstantine campaign is now in full swing, and one fan who's definitely willing to do his part is Stephen Amell. The Arrow star has proposed a crossover featuring the two DC Comics characters, promising to guest star on Constantine if a new network picks it up.
But making that happen might be easier said than done. "It's really hard to make plans when a show's kind of in limbo," admitted Arrow showrunner Marc Guggenheim. Read Amell and Guggenheim's comments on a potential Arrow Constantine crossover after the jump. 
On Friday, NBC officially announced that it would not renew Constantine. Producer Warner Bros. TV is now shopping the supernatural antihero drama to other outlets, and Amell has decided to try and sweeten the deal for any interested networks.
#SaveConstantine — Hey TV Networks / Netflix and the like... If you pick up the show, I'll guest star.

— Stephen Amell (@StephenAmell) May 9, 2015
Team Constantine seems on board. Constantine showrunner Daniel Cerone retweeted Amell's comment, and Constantine star Matt Ryan weighed in with his own tweet in support of the idea.
@amellywood man, it would be a real pleasure to explore these Guys dynamic #Constantine #SaveConstantine

— Matt Ryan (@mattryanreal) May 9, 2015
Amell further expanded on the Arrow Constantine crossover suggestion at Wizard World Philadelphia Comic-Con (via ComicBook.com):
There is an opportunity for interconnectivity with any DC television show that exists. Like, as an example, yesterday Constantine was cancelled. And there is... yeah, I know, it's brutal... it's a good show, and it should come back. And it may come back, like there are various platforms where it could come back.
Now, Constantine was an NBC show. I'm on The CW. I had had discussions with DC... so not NBC, not CW... but with DC Entertainment about guest starring on Constantine when it was still on the air. And that was and is still on the table.
So Amell's idea doesn't come completely out of nowhere. He even explained what his Arrow character, Oliver Queen, would have been doing on Constantine:
The reason that I was going to guest star on Constantine, at least the idea that we were throwing around was he's an expert when it comes to the Lazarus Pit, which is now something that is a part of and will continue to be a part of Arrow.
For his part, Guggenheim more or less seems to support the idea. In a separate interview with Variety, he acknowledged that "there's a lot of desire on everyone's part" to bring Constantine into a shared DC TV universe, and even shared that they have "a number of ideas" about it already.
But he sounds a bit less optimistic about the odds of an Arrow Constantine crossover than Amell does:
[I]t's hard for me to say mainly because A: it's not my decision to make and B: with 'Constantine' being shopped around to other networks... it's really hard to make plans when a show's kind of in limbo.
His more pragmatic response is totally understandable. It's one thing for an actor to tell fans he wants to appear on another show; it's another for the showrunner of one series to make promises about another series' guest star list.
For what it's worth, though, it does sound like the creative teams of both shows are eager to team up on an Arrow Constantine crossover. Now the only thing left is to make sure Constantine actually gets picked up. If Oliver Queen and John Constantine bonding over the Lazarus Pit sounds like something you'd be into, now is the time to fire up those #SaveConstantine tweets.