Kevin Smith's 'Mallrats 2' Is Called 'MallBrats'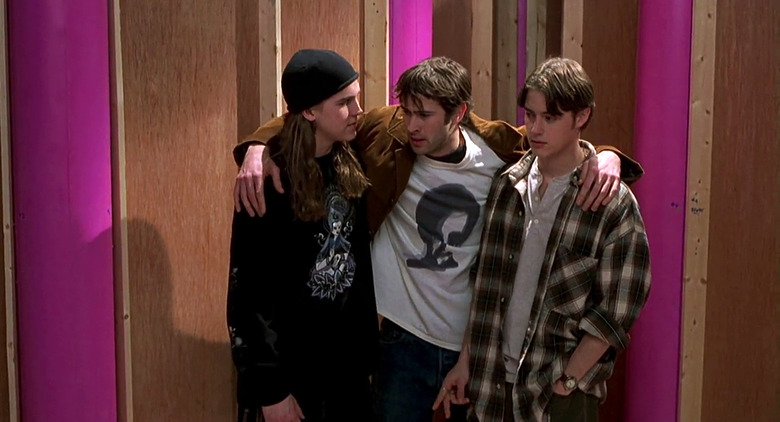 When Brodie, TS, Gwen and maybe even Shannon Hamilton return to the big screen, there won't be a "2" at the end of their title. Kevin Smith revealed on Twitter that the title to Mallrats 2, the sequel to his 1995 cult comedy, is MallBrats. Read more about the Mallrats 2 title below.
Here's Smith's Tweet:
20 years in the making. 113 pages fulla old friends & new jokes. This is for you, Jim. Wish you were here. #MallBrats pic.twitter.com/O6HfIWbRY6

— KevinSmith (@ThatKevinSmith) May 11, 2015
He's referring to Jim Jacks, a producer of the first film who desperately wanted to see a sequel. (Once called Mallrats 2: Die Hard in a Mall.) Jacks passed away a little over a year ago, which helped motivate Smith to finally make the film his friend — whom he'd lost contact with — wanted to see. You can read the whole story, and even listen to it, at this link.
So what does "MallBrats" mean? We don't know, but we can speculate. First up – it's a smart title in a business sense. Without presenting the film as a sequel, Smith can bring in audiences who may be unfamiliar with the first film. At the same time, it sounds similar enough that everyone will know what it is.
"Brats" also suggests younger stars at the center and that very well may be the case. While Smith has been teasing returning actors for the past few months (read a recap of that here, but basically everyone is confirmed except Ben Affleck. Claire Forlani joined last week.) He also recently stated there are 18 returning characters from the original movie in his script along with six new characters. It seems entirely possible those six characters could be the "Brats." Smith is a John Hughes fan, regularly makes references to his work, and Hughes' stars were referred to as the Brat Pack.
Plus, it makes sense for new characters to carry the movie and interact with the original ones. This would help bring in new audience members and tell a modern, timely story. (It would also help all these original stars return if they didn't have to be on set for a long time.)
Smith is planning on shooting MallBrats later this year with a probable 2016 release. This Mallrats fan is incredibly excited to see what Smith has to say about that culture now that it's all but dead.
What do you think of the Mallrats 2 title, MallBrats?