'X-Men: Apocalypse' Image: James McAvoy Finally Goes Bald As Professor X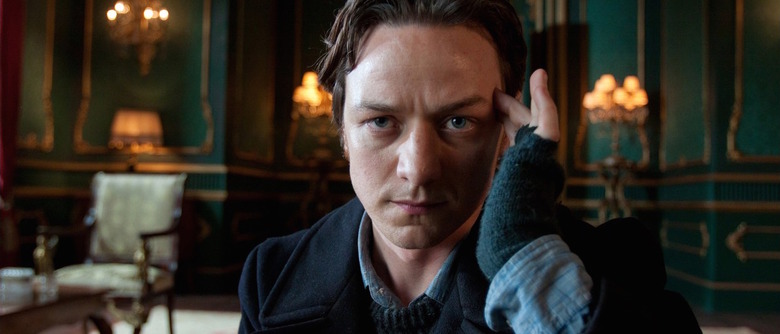 Director Bryan Singer has been pretty generous about sharing photos from the set of X-Men: Apocalypse. We've already gotten to peek at new characters Nightcrawler (Kodi Smit-McPhee), Jean Grey (Sophie Turner), and Jubilee (Lana Condor). Now today, we have a new look at an old favorite: Charles Xavier, finally sporting his signature bald dome. See the James McAvoy bald pic after the jump. 
Singer shared the James McAvoy bald image on Instagram. In it, we see McAvoy in the process of going bald to play Professor X.
#Xavier reborn (in process ) #jamesmcavoy #XMEN #XMenApocalypse @xmenmovies
A photo posted by Bryan Singer (@bryanjaysinger) on
It's a fun progression for the character, who is bald in the comics as well as the original trilogy films, where he was played by Patrick Stewart. Although McAvoy has played the good professor twice before, he's sported a full head of hair both times. But not only is he going bald, he's really committing to the look. From the looks of it, that's a full-on shave, not just a bald cap.
X-Men: Apocalypse takes place in the '80s — 1983, based on the Return of the Jedi sign seen in earlier set photos. That means we're about 20 years removed from X-Men: First Class, which took place in 1962, and about 10 years from X-Men: Days of Future Past, which unfolded in 1973. (The "past" parts, that is.) It's possible there's some cool sci-fi explanation for his hair loss, but it's also quite possible that's just a normal thing to happen to a guy in his 50s.
Also back for the next installment are Michael Fassbender as Magneto, Jennifer Lawrence as Mystique, Nicholas Hoult as Beast, Rose Byrne as Moira MacTaggert, Evan Peters as Quicksilver, and Lucas Till as Havok. New characters include Tye Sheridan as Cyclops, Alexandra Shipp as Storm, Ben Hardy as Angel, Olivia Munn as Psylocke, and Oscar Isaac as Apocalypse.
X-Men: Apocalypse opens May 27, 2016.