'Constantine' Canceled By NBC (For Real This Time)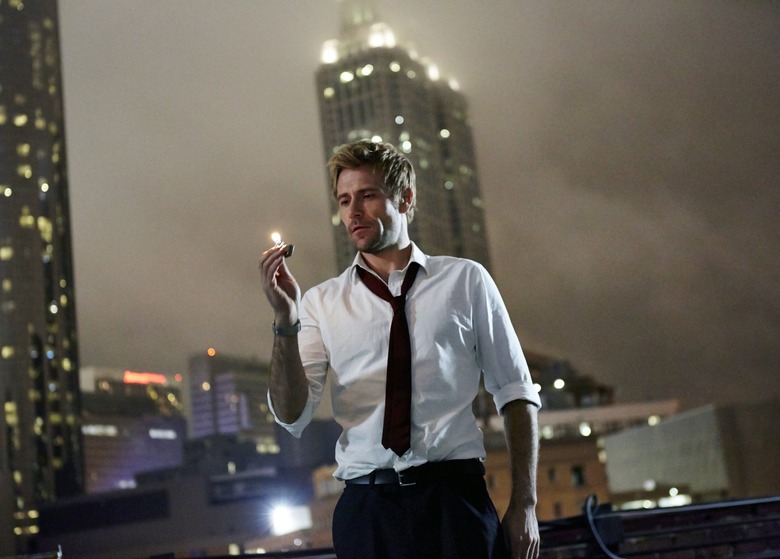 Last month, word circulated that NBC had cancelled Constantine. As it turned out, that report was premature. Showrunner Daniel Cerone quickly clarified that no decision had been made. But that decision has now been made, and yup — Constantine has been cancelled. For real this time.
However, fans shouldn't fall into the depths of despair just yet. Cerone offers the faint hope that Constantine will get picked up by another network. More on Constantine's future after the jump. 
NBC has officially announced that Constantine will not be back for a second season. At least not on their network. As Cerone reassures fans, studio Warner Bros. TV is currently shopping the supernatural drama elsewhere.
NBC a "no" for Season 2. Warner Bros working hard to find #Constantine new home. Stay active. Stream. Tweet. #SaveConstantine #Hellblazers

— Daniel Cerone (@DanielVCerone) May 8, 2015
Based on the Vertigo Comics series Hellblazer, Constantine stars Matt Ryan as a scruffy antiheroic type who is tasked with defending humanity from evil forces. After a shaky start, Constantine found its footing as the first season one and in time developed a devoted fanbase.
Unfortunately, its numbers were never great. Last fall, the network declined to extend the initial 13-episode order — rarely a good sign. Even Cerone admitted last month that it was "fair to say" a Constantine renewal was "a long shot."
But these days, a much-loved but little-seen TV show isn't really dead until it's gone, hat in hand, to all the other networks, streaming services, and original content platforms in town.
As EW's James Hibberd points out, The CW seems like a natural fit. They've had great luck with DC Comics-based properties (like The Flash and Arrow) and their similarly themed Supernatural is getting long in the tooth. The Syfy would be another great home for Constantine, though it's too bad that earlier rumor about the show landing there in rebranded fashion turned out to be hot air.
But that's just speculation. For now, Constantine fans, rest assured we'll be keeping an eye out for more updates on the show's fate.