'Uncle Buck', 'Limitless', And 'Rush Hour' Shows Are Coming To A TV Near You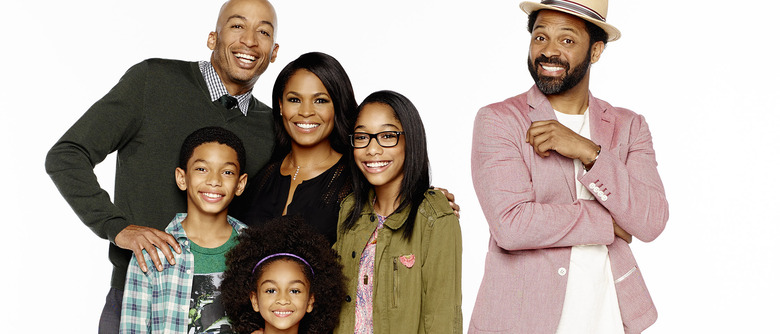 Your TV schedule might look a lot like your DVD collection next season. ABC has just given a series order to Uncle Buck, adapted from the 1989 John Hughes comedy, while CBS is moving ahead with small-screen versions of Rush Hour and Limitless. More details on the Uncle Buck, Limitless, and Rush Hour TV shows after the jump.
Lately it's felt like every movie that ever existed has a TV adaptation in the works. Not all of them will make the cut to become full-fledged shows. But as the broadcast networks get their ducks in order for the 2015-2016 series, we're finding out which ones did.
Let's start with ABC's Uncle Buck, which we first reported on back in October. The multi-cam comedy should fit right in at the network alongside other family sitcoms like Modern Family, Black-ish, Fresh Off the Boat, The Middle, and The Goldbergs.
The original film starred John Candy as an irresponsible man-child tasked with watching over his brother's unruly kids. The movie inspired a not-great CBS series that was axed in 1991 after just one season. The families of John Hughes and John Candy have expressed their unhappiness about the new project.
The new Uncle Buck features Mike Epps as the title character, a "fun-loving but irresponsible guy" who moves in with his brother Will (James Lesure) and sister-in-law Cindy (Nia Long) to take care of their three kids (Iman Benson, Sayeed Shahidi, and Aalyrah Caldwell) after their nanny quits. Will Packer is executive producing with Steven Cragg and Brian Bradley of MADtv.
Meanwhile over at CBS, Rush Hour is a go with Justin Hires (21 Jump Street) and Jon Foo (Tekken) as the new Chris Tucker and Jackie Chan. Like the 1998 action-comedy, the series will follow a loud-mouthed LAPD officer who's paired with a by-the-book Hong Kong police officer. The original film's director, Brett Ratner, is executive producing along with Bill Lawrence (Scrubs), Blake McCormick (Cougar Town), and more.
And also moving forward is Limitless, based on the 2011 sci-fi pic starring Bradley Cooper. The TV version stars Cooper's American Sniper co-star Jake McDorman as Brian, who unlocks his full potential after using the drug NZT. The FBI then coerces him into using those newfound abilities to help crack their cases.
Whereas the Rush Hour and Uncle Buck TV shows sound a lot like their cinematic inspirations, Limitless seems to be going in a new direction with the original premise. It sounds like a cross between a superhero drama and a crime procedural based on the above description, whereas the Limitless movie was more of a thriller.
Marc Webb directed the Limitless pilot from a script by Craig Sweeny, who also wrote the movie. Both will executive produce along with Cooper, Todd Phillips, Alex Kurtzman, Roberto Orci, and others.