Judd Apatow Co-Writing Iraq War Dramedy With 'Redeployment' Author Phil Klay [Updated]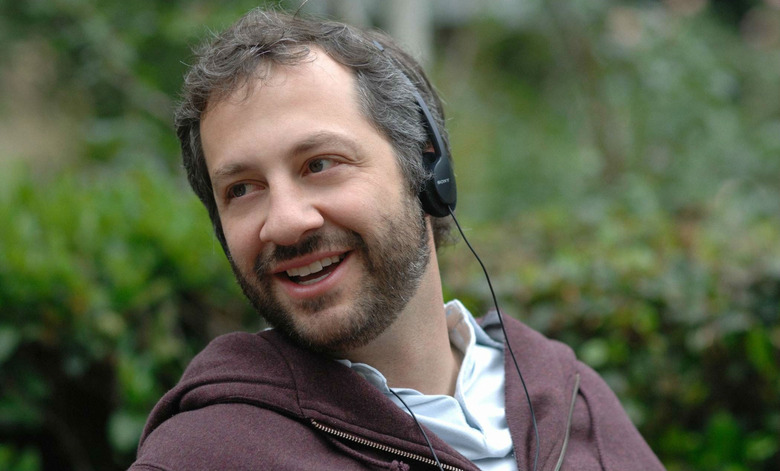 After chronicling the love lives of romantically ambivalent men from every conceivable angle, Judd Apatow is branching out this year by chronicling the love life of a romantically ambivalent woman in Trainwreck. Now his latest new project will take him much further afield, all the way to the front lines of the Iraq and Afghanistan Wars.
Apatow is currently working on an adaptation of Redeployment*, Phil Klay's National Book Award-winning short story collection about American soldiers at war and at home. More on the Judd Apatow Redeployment movie after the jump.
* Update: To clarify, Apatow calls his new movie with Klay "an original screenplay." However, it's clear the project has very similar themes as Redeployment even if it isn't a direct adaptation. Original story follows.
In the latest episode of You Made It Weird with Pete Holmes, Apatow revealed his plans for his new project. He's co-writing Redeployment with Klay himself, and as of now it's unclear whether Apatow also plans to direct it. He described the project as follows:
[It's] a comedy with drama or a drama with comedy about those people and what they've gone through. Hopefully in an entertaining way so it's not one of these depressing movies you don't want to see. But just about, what happens to soldiers who return to a country that isn't even that aware that we're at war?
Klay's book has been acclaimed for its willingness to delve into the kinds of messy and intimate situations that don't get covered in the mainstream media, but that inform the lives of soldiers past and present. The Iraq War seems to be a hot topic in Hollywood right now. Also in the works are Billy Lynn's Long Halftime Walk from Ang Lee and The Yellow Birds with Benedict Cumberbatch.
Apatow can do dramedy very well, as we've seen going all the way back to Freaks and Geeks. In that sense, Redeployment seems like a good match for him. But the stakes are obviously much higher than they are in something like Trainwreck or This Is 40, so it should be interesting to watch him grapple with the darker themes that come with a war movie.
And Apatow himself sounds ready to mix it up, as he explained to Holmes:
Other times I do think think, 'Well, what else is there to cover??' I did birth and death and marriage and family and comedy. And I realize there's really not much left. [...] But I do feel, I've made a pretty good high school show and a college show and a pretty good young adult show, first sex, first relationship, marriage, older marriage, death, comedy. I've covered a lot of my bases. So right now I'm like, I'm not sure what to write about.
Whether Apatow directs or just co-writes, Redeployment sounds like an exciting progression for him. Listen to the entire interview here or on iTunes. The quotes above hit around 32:30.