The Farrellys' 'Three Stooges' Is Getting A Sequel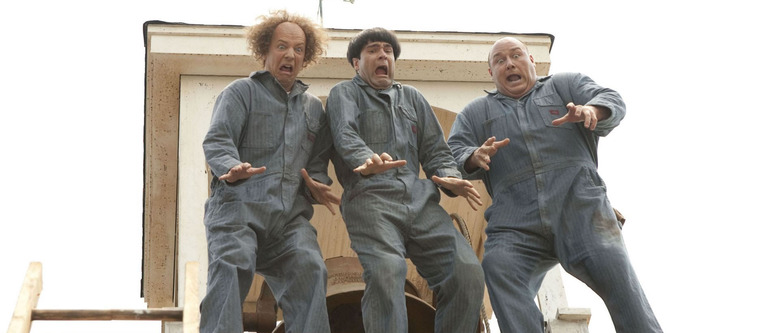 The Three Stooges are coming back, again. Sean Hayes, Chris Diamantopoulos, and Will Sasso are set to return as the idiot brothers in a new sequel to the 2012 comedy by the Farrelly brothers.
The announcement comes as a big surprise, seeing as the last film wasn't much loved. Though it fared better than expected with critics, it flopped with audiences, earning just $54 million worldwide. Then again, screwing everything up, only to survive to screw up another day, is kind of the Stooges' M.O. So in that sense, maybe this news is entirely appropriate.
Get more details on the Three Stooges sequel after the jump. 
C3 Entertainment, Grand Peaks Entertainment, and The Exchange are behind the new Three Stooges sequel. The script is being written by Cameron Fay, who penned the upcoming comedy Brothers in Law starring SNL's Taran Killam.
The new film will be an action-comedy, rather than a straightforward comedy. As such, producers are currently looking for a major action star to join Larry, Moe, and Curly in their slapstick shenanigans. Hey, it beats stunt-casting the Jersey Shore stars.
"With Sean, Chris and Will back as our Stooges and Cameron writing, this next film will be a truly unique blend of fast paced action with the hilarious mayhem of The Three Stooges," said C3 CEO Earl Benjamin in a statement.
The 2012 Three Stooges was a labor of love for the Farrelly brothers, who spent years trying to get it off the ground. At one point they had Sean Penn, Jim Carrey, and Benicio Del Toro attached for the lead roles; just imagine what that movie would have been.
But it doesn't seem they're eager to revisit their passion for the goofy trio, as they're not mentioned in the new announcement. As of now, the Three Stooges sequel has yet to lock down a director or release date.