New 'Sense8' Trailer: The Wachowskis Link Eight Minds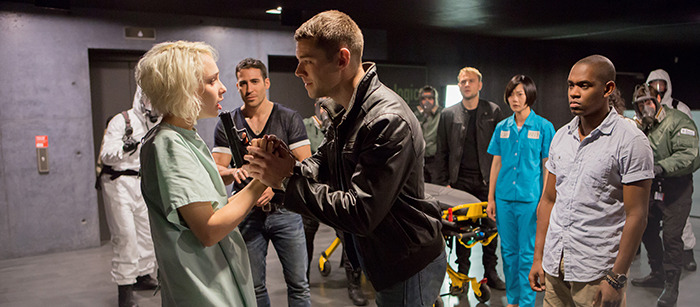 Update from Editor Peter Sciretta: Netflix has released a new trailer for The Wachowsi's new original television series Sense8. Watch the new trailer now embedded after the jump.
Sense8 Concept Trailer
All ?12 episodes of the global dramatic thriller will launch on Friday, June 5th 2015 ?only on Netflix?.
Russ' original post from May 7th follows:The Wachowskis link eight lives in an usual way in their new Netflix series Sense8, and the debut Sense8 trailer shows some of the repercussions and benefits of being deeply linked to several other people at once. This is a break for the filmmakers, who have consistently worked in big-budget arenas ever since The Matrix became a massive hit in 1999. Now they've scaled back, and the results look interesting. Check out the trailer here.
I like this trailer; I'm intrigued. The Wachowskis can't rely here on big-budget filmmaking, but instead had to strip back down to storytelling basics, and I'm eager to see how that plays out.
And while there's one set of shots here that seems to replicate The Matrix in some ways, a closer look suggests the shot might not be what we think it is — there's a camera clearly visible, and a stunt rig. Are those elements something that shouldn't have been left in for the trailer (very doubtful) or elements that tell us we're seeing a movie set within the context of the story?
Sense8 will launch as a 12-episode series Friday, June 5 only on Netflix.
One moment links 8 minds in disparate parts of the world, putting 8 strangers in each other's lives, each other's secrets, and in terrible danger. From the unparalleled creative minds of The Wachowskis ("The Matrix" trilogy, "Cloud Atlas") and J. Michael Straczynski (Clint Eastwood's "Changeling," "World War Z"), as well as Grant Hill ("The Matrix" trilogy, "Cloud Atlas").
The international cast includes: Brian J. Smith, Tuppence Middleton, Jamie Clayton, Miguel Angel Silvestre, Tina Desai, Doona Bae, Aml Ameen and Max Riemelt. Also, Daryl Hannah, Naveen Andrews, Terrence Mann, Freema Agyeman, Alfonso Herrera, Erendira Ibarra, Adam Shapiro, Ness Bautista and Joe Pantoliano. Unlike anything seen on television before, Sense8 pushes the boundaries in style, scope and story. For more information about #Sense8, follow the series on Twitter.