Kevin James To Star In 'The True Memoirs Of An International Assassin'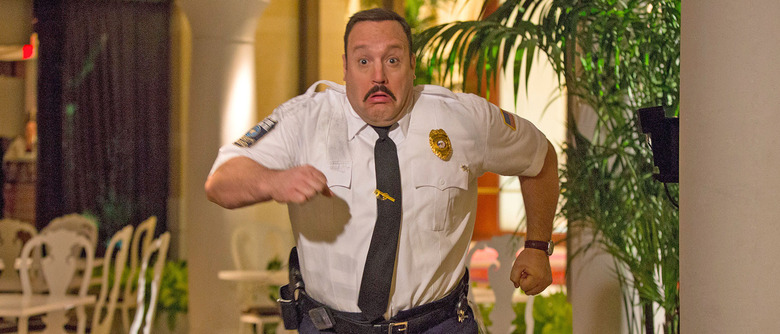 Fresh off of saving the day in Paul Blart: Mall Cop 2, Kevin James is getting called to action-hero greatness once more. James is set to star in The True Memoirs of an International Assassin, about a normal dude who gets mixed up in a crazy assassination plot.
Jeff Wadlow (Kick-Ass 2) will direct the action-comedy from a Black List script by Jeff Morris (Grumpy Cat's Worst Christmas Ever). More details on the Kevin James International Assassin movie after the jump. 
As announced by PalmStar Media (via THR), The True Memoirs of an International Assassin stars James as,
...a mild-mannered accountant and would-be author (who) is mistaken for a killer-for-hire when his fictional novel about an international assassin is published as a true story. Trying to escape his sudden fame and celebrity, he heads to Belize but is immediately entangled in an assassination plot. Thrown into a world of real danger, he must find a way to channel his lead character Colt Rodgers and save the day.
All of which sounds like your standard Kevin James action-comedy — you know, like Paul Blart: Mall Cop, except on a larger scale. However, the producers are promising it's anything but.
"This is going to be a fun, action-packed ride and will definitely show a side to Kevin that nobody has ever seen," gushed Todd Gardner (Paul Blart: Mall Cop). Kevin Frakes (John Wick) adds, "We can't wait to drop Kevin in these crazy and intense situations and let the world see the bad-ass he truly is."
James is coming off of Paul Blart: Mall Cop 2, which has earned a solid $75 million so far despite hilariously awful reviews. Next up for him are two more projects with his BFF Adam Sandler, the action comedy Pixels and the animated family flick Hotel Transylvania 2.
The True Memoirs of an International Assassin will shoot in September. Also producing are Raja Collins, Justin Begnaud (A Girl Walks Home Alone at Night), Raj Brinder Signh (American Ultra), and Jeff Sussman (Zookeeper).