'Independence Day 2' Finds A New POTUS In Sela Ward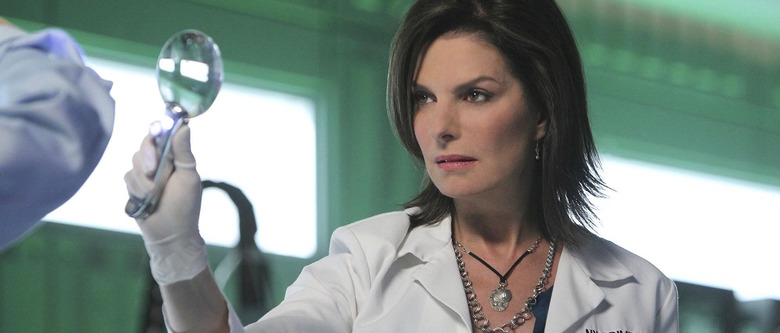 Independence Day's Thomas J. Whitmore is one of the most beloved U.S. Presidents in movie history. But even in a world nearly eviscerated by hostile alien forces, POTUS isn't a lifetime gig. So in Independence Day 2, the Oval Office will be taken over by Sela Ward. More on the new Independence Day 2 president after the jump. Deadline reports Ward will play sitting president Lanford in the upcoming sequel directed by Roland Emmerich. No other details about her character have been revealed at this time.
Lanford certainly has big shoes to fill, but when the aliens return she may also have one advantage Whitmore didn't. Bill Pullman is reprising his role as Whitmore for the movie. Hopefully he'll be able to offer her some useful advice in fending off extraterrestrial attacks based on his own personal experiences.
Independence Day 2 also sees the return of Jeff Goldblum as David Levinson, Judd Hirsch as Julius Levinson, Brent Spiner as Brackish Okun, and Vivica A. Fox as Jasmine Dubrow. Jessie Usher and Maika Monroe will play Dylan Dubrow and Patricia Whitmore, played by Ross Bagley and Mae Whitman in the original film. Liam Hemsworth, Charlotte Gainsbourg, Travis Tope, and Joey King also star.Carter Blanchard wrote the most recent draft of Independence Day 2, with previous drafts by Emmerich and Dean Devlin and James Vanderbilt. Emmerich and Devlin are also producing, with Harald Kloser. The story picks up about twenty years after the events of the first film, as a new generation of fighters battles the next wave of invaders from outer space.
Ward previously worked with Emmerich on the climate-based disaster pic The Day After Tomorrow. Her recent credits include the David Fincher thriller Gone Girl and CBS series CSI: NY.
Independence Day 2 is on track to enter production this month. Fox has it scheduled for release on June 24, 2016, 20 years almost to the day after the debut of the first film.