Jonas Akerlund Directing Black Metal Biopic 'Lords Of Chaos'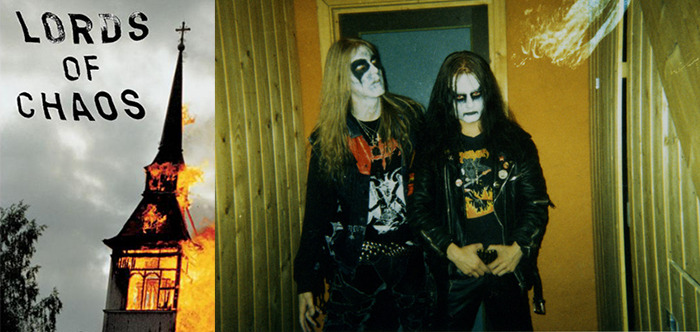 Lords of Chaos is your classic "young friends become enemies" tale, but with a few shocking twists. For one, the friends in question were in bands that helped define a metal subgenre that is now an established cornerstone of the metal scene. They were also linked to a rash of arson cases — specifically, the burning of churches in Norway. Hanging over it all is murder.
That's all part of the story of Varg Vikerns, of the one-man band Burzum, and Øystein Aarseth, a.k.a. Euronymous (above right), of the band Mayhem. Their story is chronicled in the book Lords of Chaos. A Lords of Chaos movie has been in development for years, and now Jonas Åkerlund is going to direct it, with Rory Culkin and Caleb Landry Jones in the lead roles.
Variety doesn't say which roles Culkin and Jones will play, specifically, but based on appearances alone I'd guess that Culkin will play Euronymous, and Jones will be Vikerns.
We don't know what time period the film will cover, so it may also include the story of Mayhem singer Per Yngve Ohlin, aka Dead (above left), who committed suicide in 1991. His body was found by Euronymous, who photographed it and reportedly collected keepsake bone fragments before calling the police.
The site also puts forth some official copy about the film, which will help outline the story:
Lords of Chaos follows 17-year-old Euronymous, who is determined to escape his traditional upbringing in 1980s Oslo. He becomes fixated on creating true "Norwegian Black Metal" music with his band Mayhem, and creates a phenomenon by using shocking stunts to put the band's name on the map. But as the lines between publicity and reality start to blur, acts of arson, violence and a vicious murder shock the nation.
Åkerlund has some old-school extreme metal cred, as he was briefly the drummer for Swedish band Bathory in the early '80s. From there he went on to a more conventional music video career, and directed films like Spun and Horsemen.
The film is co-written by Åkerlund and Dennis Magnusson, and produced by Ridley Scott's Scott Free London, RSA London and VICE.
Lords of Chaos will shoot this fall in Norway.