New 'Star Wars: The Force Awakens' Images Featuring Adam Driver And Lupita Nyong'o [Removed]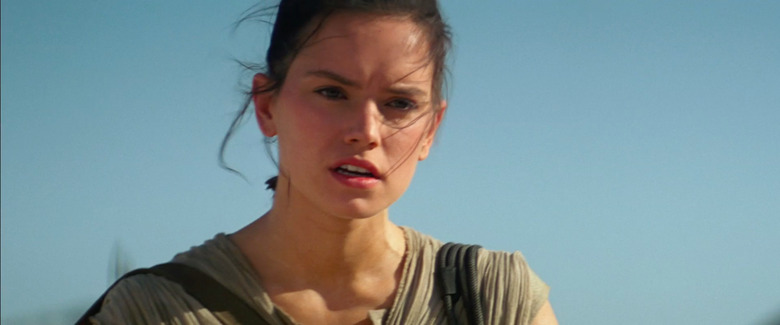 This is the first Star Wars Day in ten years where we actually have a new Star Wars movie to look forward to. (Or more than that, if you want to argue that Revenge of the Sith wasn't something to look forward to. Zing!) So far, the holiday hasn't disappointed. We've seen a gorgeous new Vanity Fair cover and a behind-the-scenes video, and now we have a bunch of exciting Star Wars The Force Awakens images to share as well.
The new batch of photos features Adam Driver as Kylo Ren, Oscar Isaac as Poe Dameron, and Lupita Nyong'o in mo-cap gear as Maz Kanata, along with the assorted creatures that populate the Star Wars galaxy. Click through to check 'em out, and to find out what else we've learned about the new Star Wars movie.
Vanity Fair unveiled the new Star Wars The Force Awakens images, shot by Annie Leibovitz at London's Pinewood Studios.
[images removed at request of Vanity Fair]
The video and images confirm the longstanding rumor that Adam Driver is Kylo Ren, the hooded figure with the crossguard lightsaber. Here, we see him "command[ing] snowtroopers loyal to the evil First Order on the frozen plains of their secret base."
And we finally know who Lupita Nyong'o is playing: Maz Kanata, a CG character described as a pirate. Those oddball creatures are from the main hall of her castle. But don't assume she's a baddie just because she's an outlaw – she may or may not be part of the Resistance (i.e., the Rebel Alliance).
In addition to beloved classic characters like Han Solo, Chewbacca, Luke, and Leia, J.J. Abrams reveals he considered bringing back the less beloved, less classic character Jar Jar Binks. Before you throw your lightsaber down in disgust, though, hear him out: "I have a thought about putting Jar Jar Binks's bones in the desert there. I'm serious! Only three people will notice, but they'll love it."
There's still one more big character reveal expected to come today, likely that of Gwendoline Christie, so stay tuned this May the Fourth for more. Star Wars: The Force Awakens opens December 18.