Even More 'Wet Hot American Summer' Could Be Coming, Says David Wain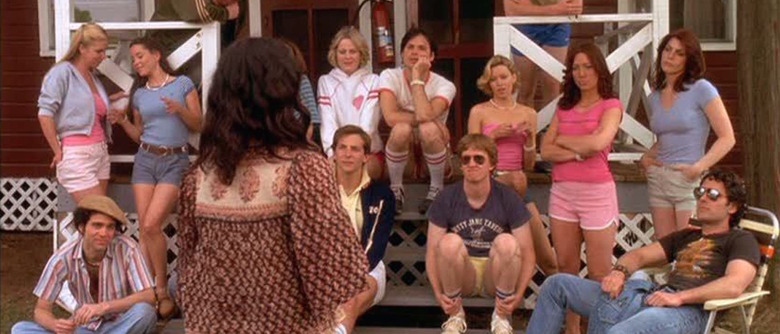 David Wain wants to extend his stay at Camp Firewood. The director of Wet Hot American Summer says he hopes to extend the franchise even beyond the upcoming prequel series Wet Hot American Summer: First Day of Camp, which debuts on Netflix this summer. More about the possibility of more Wet Hot American Summer after the jump.
Wain revealed his desire to do more Wet Hot American Summer in a chat with EW. "I think there's plenty more to do," he said. "If it all works out, it'd be great." That's still a big if, obviously. Wet Hot American Summer: First Day of Camp hasn't even hit Netflix yet, so we don't know if the new show will be a success. Even if it is, it'll surely take some time to get everything in line for a second season.
But surprisingly, Wain says getting the original cast back together wasn't terribly difficult. "We just basically set a date and said, okay whenever anyone's free during that time, come on over and we'll shoot," he said. "So, that was never the delay. It was just sort of getting the whole machine up."
Contrast that to Netflix's Arrested Development, which had to resort to green screen to get around actor schedules while shooting Season 4, and which has continued to struggle getting everyone together for Season 5.
But Wet Hot American Summer does have a few advantages in that regard. For one thing, the cast is so big that some actors, such as Bradley Cooper, were able to finish their part in as little as a day. For another, Wet Hot American Summer doesn't seem to rely on tightly interwoven storylines the way some other comedies (like Arrested Development) do.
If Wain can pull off that trick a second time, the odds of a Wet Hot American Summer Season 2 happening are probably much more likely. First Day of Camp has a massive, star-studded cast including original cast members like Paul Rudd, Amy Poehler, and Elizabeth Banks, and newcomers like Jon Hamm, Chris Pine, and Kristen Wiig.
Even with the new additions, Wain recalled shooting the prequel felt totally familiar:
We've kept in touch, but now this group's together in this way, playing these characters back in this world of this summer camp. It felt like we were back to where we were 15 years ago, and it all came back to life as if no time had transpired in between. That was really wild, to suddenly be shooting for two months in this same world again. It was so much more similar to the feeling of shooting back then than I ever could have imagined.
Wet Hot American Summer: First Day at Camp arrives July 17.