Watch The Gorgeous New Trailer For Salma Hayek's 'Kahlil Gibran's The Prophet'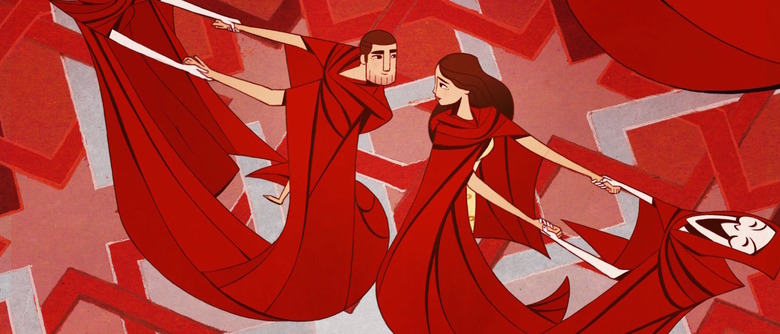 The summer movie season is finally here, and with it comes the usual glut of big-budget blockbusters. But if you're in the mood for something a bit more offbeat, Kahlil Gibran's The Prophet is definitely one to look out for.
Inspired by the collection of prose poetry essays that gives the movie its title, Kahlil Gibran's The Prophet turns those poems into distinct segments, each done up in a different, gorgeously unique animation style. All are knit together by a framing device involving an artist (Liam Neeson), his housekeeper (Salma Hayek), and her daughter (voiced by Quvenzhané Wallis).
Watch the Kahlil Gibran's The Prophet US trailer after the jump.
GKIDS unveiled Kahlil Gibran's The Prophet US trailer on YouTube.
The framing device would probably make for a sturdy film on its own, what with its themes of freedom, oppression, and rebellion. However, it's pretty conventional in terms of its style. Where the trailer really gets interesting is when it gives itself over to those other segments.
Roger Allers (The Lion King) wrote the screenplay and is the director that pulls Kahlil Gibran's The Prophet all together, but different directors took over the individual segments, including Paul and Gaëtan Brizzi, Joan C. Gratz, Mohammed Saeed Harib, Tomm Moore, Nina Paley, Bill Plympton, Joann Sfar, and Michal Socha.Kahlil Gibran's The Prophet premieres August 7, 2015.
Set in a Mediterranean sea-side village, Kamila (Salma Hayek) cleans house for exiled artist and poet Mustafa (Liam Neeson), but the more difficult job is keeping her free-spirited young daughter, Almitra, (Quvenzhané Wallis) out of trouble. The three embark on a journey meant to end with Mustafa's return home – but first they must evade the authorities who fear that the truth in his words will incite rebellion. Featuring music from Damien Rice, Glen Hansard and Yo-Yo Ma.