'Roots' Remake Coming To A&E In 2016; LeVar Burton To Produce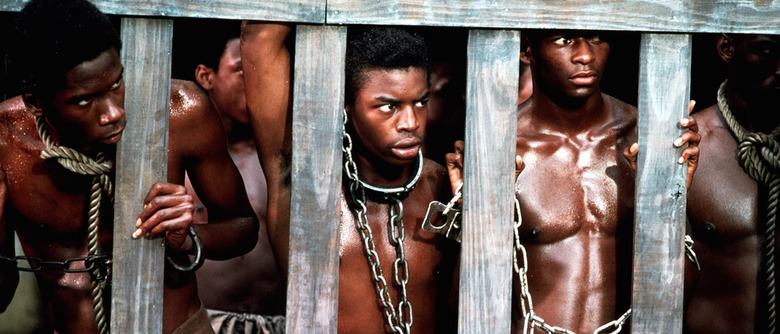 Another small-screen classic is getting remade. A+E Networks announced a Roots remake is in the works, to air next year on History, A&E, and Lifetime. LeVar Burton, who starred in the original 1977 miniseries, will serve as co-executive producer. Get all the details on the Roots remake after the jump. 
Based on the 1976 novel by Alex Haley, which Haley claimed was based on his own family history, Roots follows Kunta Kinte, a young man abducted in 18th century Africa and sold into slavery in what is now the U.S. The story follows Kunta and his descendants through such major events as the Revolutionary War, the Civil War, and emancipation.
ABC's 1977 adaptation of Roots was a massive success. The finale is still one of the highest rated TV broadcasts of all time. Critics loved the show as well, and Roots wound up winning nine Emmys, a Golden Globe, and a Peabody.
But rest assured, even if you saw the 1977 Roots, the 2016 Roots will have plenty of new stuff for you to discover. The upcoming Roots remake is billed as "an original, contemporary production, incorporating more material from Haley's novel and new research."
The Roots remake news arrives during an upswing in diversity on TV. Shows like Empire, How to Get Away With Murder, and Black-ish have been some of this season's biggest freshman hits. It also comes at a time when TV execs seem eager to revive, remake, and/or reboot pretty much any property they can get their hands on, from In the Heat of the Night to Full House.
Will Packer (Straight Outta Compton) will executive produce the new Roots with Mark Wolper, whose father David L. Wolper executive produced the 1977 mini. Lawrence Konner (Boardwalk Empire), Mark Rosenthal (Planet of the Apes), Alison McDonald (Nurse Jackie), and Charles Murray (Sons of Anarchy) will write. Allen Hughes (The Book of Eli) was originally set to direct, but has since pulled out over scheduling conflicts.
Burton, who played the teenage Kunta Kinte in the 1977 adaptation, expressed his excitement about the Roots remake:
My career began with 'Roots' and I am proud to be a part of this new adaptation. There is a huge audience of contemporary young Americans who do not know the story of 'Roots' or its importance. I believe now is the right time to tell this story so that we can all be reminded of its impact on our culture and identity.
Roots will air in 2016.
[Source: TheWrap]