'Teenage Mutant Ninja Turtles 2': First Look At Stephen Amell's Casey Jones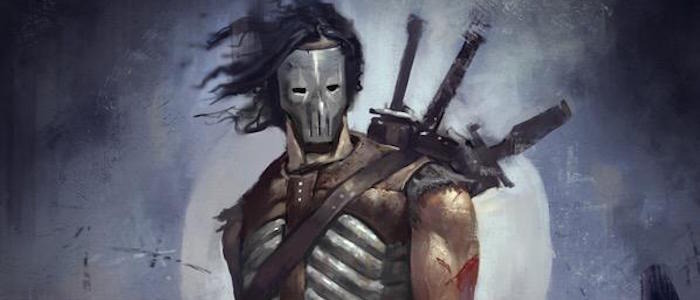 Several fan favorite characters who didn't make the cut for Teenage Mutant Ninja Turtles, will be making an appearance in Teenage Mutant Ninja Turtles 2. One of those is Casey Jones, your friendly neighborhood hockey mask-wearing vigilante. As we reported a few weeks back, Arrow's Stephen Amell nabbed that role, and today we have our first look at him in character.
See the Stephen Amell Casey Jones photo after the jump. 
Producer Michael Bay shared the first image of the Stephen Amell Casey Jones.
Stephen Amell as Casey Jones https://t.co/3EszI6nT26 #TMNT2 pic.twitter.com/IQmHR7s5j8

— Michael Bay (@michaelbay) May 1, 2015
We'll have to take Bay at his word that that's Amell under there. This Casey looks suited up for battle, with his grimy hockey mask already in place. Casey doesn't really discriminate between sports — he's been known to use baseball bats and golf clubs, and sometimes carries his equipment around in a golf bag. But in this photo he goes all-in with the hockey theme, wielding a hockey stick as his weapon.
Plot details for Teenage Mutant Ninja Turtles 2 haven't been revealed, so we don't know exactly Casey Jones fits in. In most incarnations, though, his two main jobs are to fight crime with the Turtles and serve as a love interest to April O'Neil (played by Megan Fox in these films). It's probably safe to assume he'll be doing something along those lines here as well.
Amell already knows a thing or two about pretend vigilantism, as he's just coming off of the third season of The CW's Arrow. And he reportedly scored the Casey Jones part due to his chemistry with Fox. So he makes for a great pick on both counts.
Along with Amell and Fox, Teenage Mutant Ninja Turtles 2 stars Tyler Perry as Baxter Stockman, Brian Tee as Shredder, Will Arnett as Vernon Fenwick, and Laura Linney in a mystery role. Other characters expected to appear include Bebop and Rocksteady, but as far as we know those two knuckleheads haven't been cast yet.
Teenage Mutant Ninja Turtles 2 arrives in theaters June 3, 2016.