Channing Tatum To Lead Former Ridley Scott Project 'The Forever War'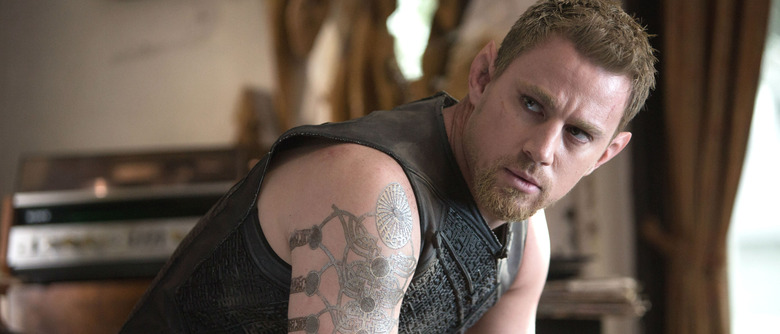 The title "The Forever War" might was well refer to the process of getting the movie made. An adaptation of Joe Haldeman's 1974 sci-fi novel has been in the works for many years, but now it finally seems to be taking a big step forward.
A bidding war has broken out among major studios for the movie, which has Channing Tatum attached to star, Jon Spaihts (Prometheus, Doctor Strange) on board to write, and Roy Lee (The Lego Movie) set to produce. Get the latest details on the Forever War movie after the jump.
According to THR, Warner Bros., Sony, and an unnamed third studio are all fighting for The Forever War. The book centers around William Mandella, a young man conscripted into a war against an alien race called the Taurans.
Thanks to time dilation, Mandella ages only months while decades and centuries pass on Earth. He witnesses several major changes to human civilization during his service, all the while trying to maintain a relationship with his true love, fellow soldier Marygay Potter.
Based on Haldeman's own experiences in the Vietnam War, The Forever War was met with critical acclaim, picking up the Nebula, Hugo, and Locus Awards. It inspired two sequels, a comic book, and a board game.
The Forever War has had a very long journey to the big screen. Visual effects pioneer Richard Edlund (Star Wars, Raiders of the Lost Ark) first picked up the movie rights in the 1970s, and held them for about 25 years.
In 2008 Ridley Scott picked up the rights with plans to direct a Forever War movie. David Peoples (Blade Runner), Matthew Michael Carnahan (World War Z), and Dante Harper all took turns at the script. But needless to say, Scott's plans never quite came together.
When the rights lapsed, the ball got rolling on this latest incarnation. Edlund remains involved as a producer. There's no guarantee this version of the movie will fare any better than the last ones did, but Tatum, Spaihts, and Lee make for a pretty strong package.
Tatum is coming off of another sci-fi adventure, the Wachowskis' Jupiter Ascending. He'll next be seen in Magic Mike XXL and Quentin Tarantino's The Hateful Eight.