'Ouija 2' Gets 2016 Release Date, 'Oculus' Screenwriters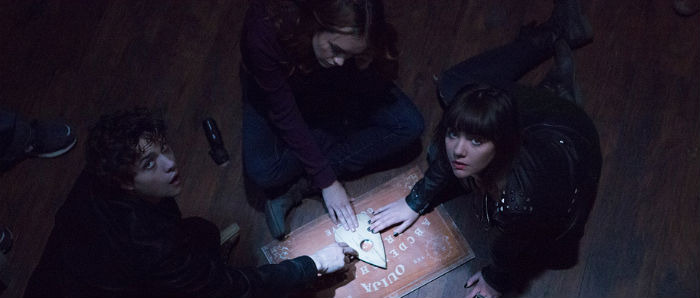 Ouija 2 is officially happening. Universal has set Mike Flanagan and Jeff Howard (Oculus) to script the board game-based horror sequel, which is now scheduled to arrive next year. Get more details on Ouija 2 after the jump. 
Universal has set an October 21, 2016 release date for Ouija 2. That pits the horror flick against Geostorm, a sci-fi thriller starring Gerard Butler. We first got wind of plans for a Ouija 2 back in January, but the Universal announcement confirms the project is moving forward.
Not a lot of people liked the first Ouija movie when it came out. Not critics, only 4% of whom gave it a positive review according to Rotten Tomatoes; and not general audience members, who gave it only a C Cinemascore.
But what matters isn't whether people enjoyed it, but whether people saw it — and people did. Enough of them that it wound up grossing $100 million worldwide, which is quite a lot considering it only cost $5 million to make.
The first movie centered on five teenagers (Olivia Cooke, Ana Coto, Daren Kagasoff, Douglas Smith, and Bianca A. Santos) who gather around a Ouija board to reach out to a recently deceased friend. They're subsequently haunted by a mysterious supernatural force.
According to Deadline, Ouija 2 will follow "a group of unsuspecting friends who must confront their most terrifying fears when they unleash an evil from the other side that only they can send back." So essentially the same plot as the first film, then, with new characters.
Jason Blum of Blumhouse Productions, Michael Bay, Brad Fuller, and Andrew Form of Platinum Dunes, and Brian Gold and Stephen Davis of Hasbro will produce once again.
Flanagan and Howard wrote the considerably better received horror movie Oculus, with Flanagan also serving as director. More recently they teamed up again for Before I Wake, which opens September 25 and stars Kate Bosworth and Thomas Jane.