'X-Men: Apocalypse': Get Your First Look At Jean Grey And Jubilee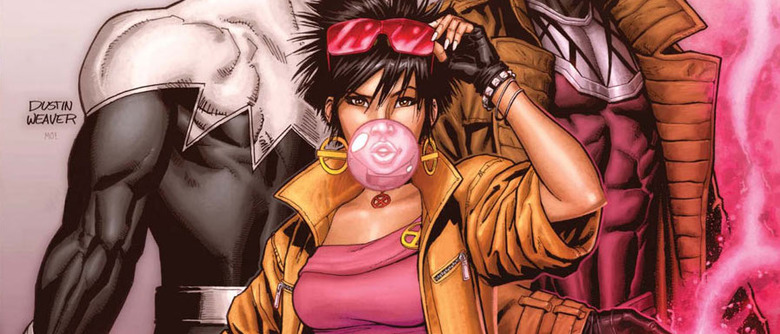 We've already seen what X-Men: Apocalypse's Nightcrawler (Kodi Smit-McPhee) looks like decked out in '80s fashion. Today, Bryan Singer has shared a look at two more of the film's new characters, Jean Grey (Sophie Turner) and Jubilee (Lana Condor). See the X-Men Apocalypse Jean Grey and Jubilee image after the jump. 
Singer shared the X-Men Apocalypse Jean Grey and Jubilee first look on Instagram.
Fun second day with @sophie_789 @lanacondor #JeanGrey #Jubilee #XMEN #XMenApocalypse
A photo posted by Bryan Singer (@bryanjaysinger) on
Between Nightcrawler's "Thriller"-inspired jacket, Jubilee's pleated culottes, and Jean Grey's mom jeans, X-Men: Apocalypse is clearly going all-in with wild '80s fashion. They're even shooting a scene at the mall, a.k.a. the epicenter of '80s teen culture. But the costuming still calls back to the characters' trademark looks. Jubilee is rocking her signature yellow jacket, and Jean Grey's bright red hair is done up in big, period-appropriate waves.
You could argue that the elegant Dr. Grey of the first X-Men wouldn't have been caught dead in that striped puff-sleeved mock turtleneck thing, but remember, X-Men: Days of Future Past wiped the slate clean for that character. In this version of the timeline, apparently, this is what she wears.
X-Men: Apocalypse is something of a transitional installment for the franchise. It's rumored to be the last for Singer and star Jennifer Lawrence, and it introduces the younger versions of several characters we know from the original trilogy.
Besides Nightcrawler, Jean Grey, and Jubilee, that includes Tye Sheridan as Cyclops, Alexandra Shipp as Storm, and Ben Hardy as Angel. Olivia Munn and Oscar Isaac star as Psylocke and Apocalypse, respectively.
Back from previous installments are James McAvoy as Professor X, Michael Fassbender as Magneto, Nicholas Hoult as Beast, Rose Byrne as Moira MacTaggert, Evan Peters as Quicksilver, and Lucas Till as Havok. X-Men: Apocalypse opens May 27, 2016.