'Spectre' Video Blog Puts Dave Bautista Behind The Wheel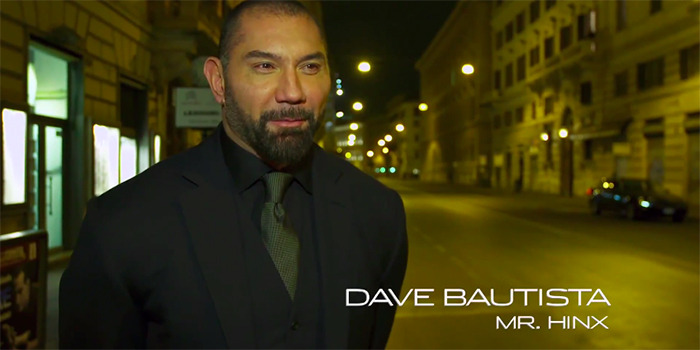 James Bond movies always have big action setpieces, but because they take so long to put together, any given Bond film also often feels as if it is chasing trends in action filmmaking. Hopefully, Bond just has the resources to do it bigger and better than anyone else.
Car chases are nothing new when it comes to Bond films, but when looking at footage of two supercars in a duel on nighttime Paris streets, some will inevitably see the influence of the Fast and Furious movies at play. But in Spectre, one of those cars is driven by the henchman Mr. Hinx, played by Dave Bautista, and he's got a great way of looking at their duel. Check out a Spectre video blog showing off the film's cars, the Aston Martin DB10 and the Jaguar C-X75.
Love that comment from Bautista: "We're doing a scene where the hero of the film, Mr. Hinx, is chasing his evil nemesis, James Bond." That's the way an actor playing a bad guy should be looking at his role.
Video via 007.com. SPECTRE is set for global release on November 6, 2015.
In SPECTRE, a cryptic message from Bond's past sends him on a trail to uncover a sinister organization. While M battles political forces to keep the secret service alive, Bond peels back the layers of deceit to reveal the terrible truth behind SPECTRE. Sam Mendes returns to direct SPECTRE, with Daniel Craig reprising his role as 007 for the fourth time. SPECTRE is produced by Michael G. Wilson and Barbara Broccoli, from a script by John Logan and Neal Purvis & Robert Wade.