'The Last Witch Hunter' Trailer: Vin Diesel Battles Witches In Modern-Day New York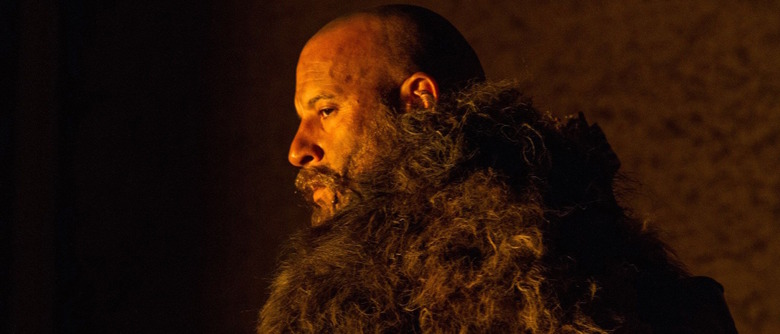 Furious 7 was a record-breaking success, but to paraphrase that old Biblical saying, man cannot live on Fast and Furious movies alone. So Vin Diesel is shaking things up a bit with The Last Witch Hunter, in which he plays — yup — the last witch hunter.
Immortal and kind of unhappy about it, Diesel's Kaulder is locked in a centuries-long battle against a witch queen (Julie Engelbrecht) who wants to unleash a plague on humanity. Fortunately, he's got some help in the form of Rose Leslie, of Game of Thrones and Downton Abbey fame. Elijah Wood and Michael Caine also star. Watch the first The Last Witch Hunter trailer after the jump.
MTV unveiled The Last Witch Hunter trailer and poster.
The trailer plays like a mash-up of various other properties. There's a bit of Riddick in Diesel's weary warrior character, and a dash of Game of Thrones between the presence of Rose Leslie and what looks like a weirwood tree. The premise has shades of I, Frankenstein and Hansel and Gretel: Witch Hunters, though The Last Witch Hunters looks less ridiculous than either of them.
All that said, The Last Witch Hunter also looks pretty entertaining. There's something deeply satisfying about the idea of Diesel, a D&D nerd at heart, playing a fantastical ancient warrior.
The Last Witch Hunter arrives October 23, 2015.
The modern world holds many secrets, but the most astounding secret of all is that witches still live amongst us; vicious supernatural creatures intent on unleashing the Black Death upon the world. Armies of witch hunters battled the unnatural enemy across the globe for centuries, including KAULDER, a valiant warrior who managed to slay the all-powerful QUEEN WITCH, decimating her followers in the process. In the moments right before her death, the QUEEN curses KAULDER with her own immortality, forever separating him from his beloved wife and daughter in the afterlife. Today KAULDER is the only one of his kind remaining, and has spent centuries hunting down rogue witches, all the while yearning for his long-lost loved ones. However, unbeknownst to KAULDER, the QUEEN WITCH is resurrected and seeks revenge on her killer causing an epic battle that will determine the survival of the human race.