MondoCon 2015 Tickets On Sale Thursday, First Artist List And Events Announced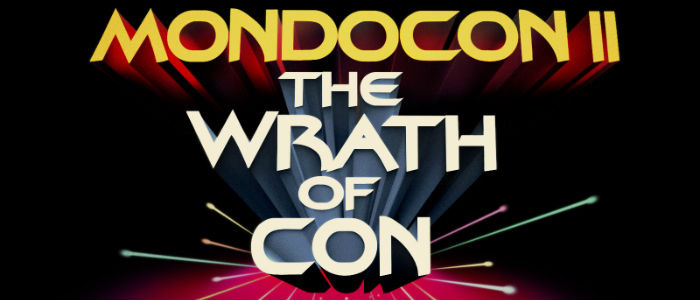 In 2014, Mondo took things to another level with their first ever convention: MondoCon. We wrote all about it here but, to recap, it was an awesome time for anyone who likes posters and general fun, pop culture madness. This year, they're doing it again. MondoCon 2015 takes place October 3rd – 4th at The Marchesa Hall & Theater in Austin, TX. That's the weekend after Fantastic Fest (the two events ran simultaneously last year) and tickets go on sale Thursday April 30.
Below, find out how you can get tickets, the first wave of artists who'll be attending, and the first two events planned for the weekend.
Here's the full press release on MondoCon 2015. For more info, visit the official site:
Mondo is thrilled to announce MondoCon 2015, taking place October 3rd – 4th at The Marchesa Hall & Theater in Austin, TX, the weekend following Fantastic Fest. The convention will bring together unique guests from a variety of areas to celebrate film, music, art, and toys with the world's finest artists, designers, toy creators, directors, composers and more. In addition to the 50+ exhibitors, the second annual MondoCon will offer unique & diverse panel, screening and event programming. This year, the convention will be taking advantage of additional exhibitor & event space in the neighboring Holiday Inn Midtown Conference Center.A full schedule of panels & screenings will be announced in the coming months, but for now Mondo is excited to present the initial list of confirmed guests (featuring both new & returning exhibitors) and a preview of a few exciting events taking place throughout the weekend.Martin AnsinOliver BarrettRichey BeckettAndy BelangerBurlesque of North AmericaScott CBecky CloonanDaniel DangerDraplin Design Co.Dude DesignsLaurent DurieuxJason EdmistonBrian EwingFrancesco FrancavillaKen GardunoJJ HarrisonTom HaubrickJockRob JonesLandlandMiddle of BeyondMike MitchellOlly MossCiro NieliRandy OrtizAlex Pardee and Zero FriendsPhantom City CreativeGary PullinDave RapozaJC RichardRockin' Jelly BeanArik RoperSkinnerTodd SlaterStatic MediumKen TaylorMatt TaylorUnbox IndustriesThe VacvvmWaxwork RecordsBernie WrightsonWBYKMondo Records & Death Waltz Recording Company will be hosting Audyssey, the Pop-Up Record Shop that first debuted in Austin in March. The shop will feature the best soundtrack labels from around the world, including titles from Waxwork Records, One Way Static, Light in the Attic & Tiger Lab, making records a huge highlight of the weekend.Mondo is also teaming up with Austin-based Inspire Pro-Wresting to put on a closing night party you won't want to miss. Inspire Pro is a modernized professional wrestling company founded in 2013 with one primary goal: to restore the prestige of the grandest sport of all in the state of Texas to the days of the Von Erichs. The company continues to attract top notch talent from throughout the world, including wrestlers from ROH, NJPW, and Chikara. They've also helped to mold and grow a powerful roster of Texas-based talent.Tickets for MondoCon 2015 will go sale Thursday, April 30th at 11:00am CST via Eventbrite. Single day tickets will are $45 and 2-day tickets are $90.Here a link to the ticket page: https://www.eventbrite.com/e/mondocon-2015-tickets-16643535262
And here's a video recapping the first event. Also, read our write up here.