One Company Offers Limited Netflix Ratings; Learn Viewership For Shows Like 'Daredevil' And House Of Cards'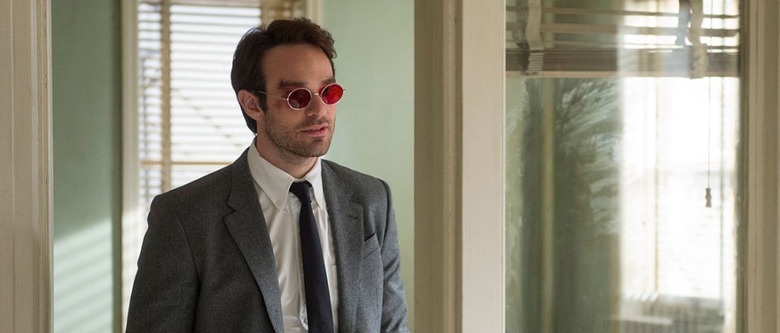 One of the great mysteries of Netflix is how many people are watching. We know there are over 40 million domestic subscribers, but what those people are actually watching, and when, is something only the company itself knows. Netflix does not share ratings data. As streaming becomes more and more prominent, however, ratings are something many people are curious about. Now one company is offering up data on how many people are watching stuff on Netflix... with a major caveat.
A San Diego-based company called Luth Research has put together a large sample of test subjects (about 2,500) that allows them to gauge what and when people are watching on Netflix. Their research, however, only accounts for people who are watching directly on Netflix, meaning on your computer, phone or tablet. Anyone watching through another service – a gaming system, an internet-enabled TV, a Roku – is not counted.
So what were the results? Below, find out the rough first Netflix ratings for Daredevil, House of Cards, Unbreakable Kimmy Schmidt, Bloodline and more.
Luth exclusively shared their Netflix ratings data with Variety, which has an in-depth breakdown of the technology and results. Here's a graph to start. Click to blow it up.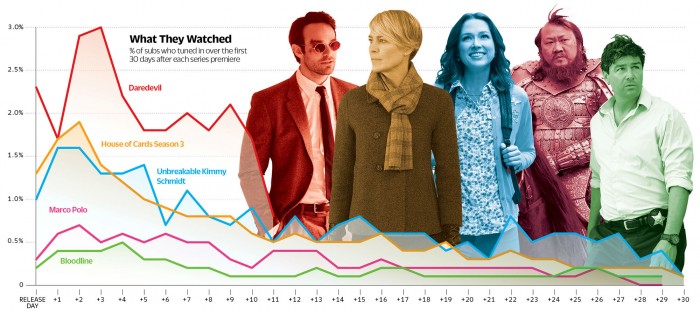 Here's what Luth found. In the case of Daredevil, 10.7% of subscribers watched at least one episode of the show over the first 11 days. 6.5% of viewers watched at least one episode of House of Cards season three in the first month, 7.3% watched an episode of Unbreakable Kimmy Schmidt in the first month and 2.4% watched Bloodline.
That might seem low for House of Cards, but when you factor in the other two seasons of the show, it was the most popular show on the platform.
Currently there are almost 41 million domestic Netflix subscribers so you take the percentage out of that for the number. 10.7% for Daredevil is about 4.4 million people. That's a solid number but it's still not close to something like HBO, which gets roughly 15 million people watching Game of Thrones over all their devices. That also assumes people who watch Netflix on the computer have the same viewing habits as people who watch on TV. Remember, this data is just based on 2,500 people Luth is currently polling.
You can read much more over on Variety, but what do you think of these Netflix ratings?