'Star Wars Rebels' Could Cross Over Into The Live-Action Movies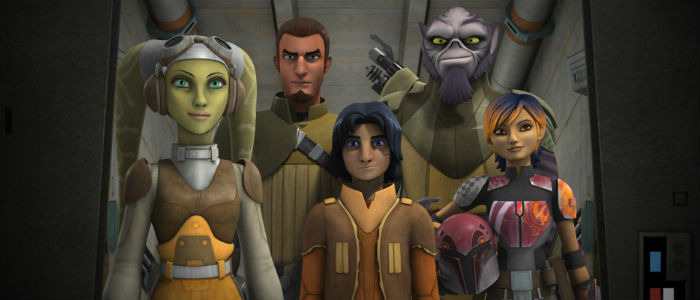 Since the inception of Star Wars Rebels, everyone's been acting under one assumption. That assumption is the show would only take place between Revenge of the Sith and A New Hope. But when you start thinking about films like Star Wars Anthology: Rogue One, we start to wonder. Why does the show have to stop there? The Skywalker story isn't the only thing happening with the Rebel Alliance. Why couldn't the Rebels cross over, not only with Rogue One, which is set in the same period, but maybe even into A New Hope and beyond?
The answer to those questions is: it could happen. This is according to Rebels producers Simon Kinberg and Dave Filoni. We spoke with each at Star Wars Celebration and they said the show is not beholden to any timeline, there could be crossover with the films on the animated show itself, and there's even a possibility the characters could show up in live action.
Of course, this is all hypothetical, but it sure does open up a pandora box's of Star Wars possibilities. Below, read the quotes from Kinberg and Filoni on a potential Star Wars Rebels movie crossover.
First up, Simon Kinberg:
Has there ever been a discussion of the animated characters, maybe not being seen in a live-action movie, but crossing over into those stories?
Absolutely there's been conversation about it. That this story could be a story that crosses over into other films, whether it's A New Hope or other movies. And that movies could potentially even enter into our timeline and our moment. It's a big galaxy. So, you know, things are happening all over the place that don't necessarily have to react to each other, the way we react to news around the world. We never meet the Chilean miners that are trapped in that mine. We know about it and the world reacts to it. So each of the different stories has to acknowledge the reality of what's ever happening in that moment in time.
But sure, and I think one of the things that's really fun about Rebels, and potentially some of the films, is there's a sort of Rosencrantz and Guildenstern version of these stories. I mean, the stories that George [Lucas] told were stories about specific characters in a massive galaxy. And so there are a lot of other characters' stories that he hasn't told.
***
So there have been discussions about this. I got a bit more specific with Dave Filoni:
As these characters get more popular and more iconic, might we see them in a live-action movie?
I would never say never to that. I mean, now that Lucasfilm is so integrated in story from top to bottom in all different forms of media, we already have had our characters cross over into novels. We're gonna have our crossover into comic books. I would say it's entirely possible. And I would encourage it.
I've talked to the creators of the other films going on and, you know, I've always made it clear if you want somebody, just let me know. They can jump over there. I don't care. I'm all for it. Because I think it makes the experience for fans so much stronger. And what a moment it would be to see some of these animated characters up there live on the screen. It would be great for me too.
***
Does this mean anything concrete? Of course not. But the fact there's even a possibility of a Star Wars Rebels movie crossover is so cool. Maybe Hero is an X-Wing pilot at the Battle of Yavin. Maybe Sabine joins Felicity Jones' character in Rogue One. Maybe we see those side stories on the show, or maybe they appear in a movie. Just because they don't appear in the original trilogy doesn't mean they aren't there somewhere. All we know is anything is possible in the new world of Star Wars.
What are your thoughts on a Star Wars Rebels movie crossover?