VOTD: Kevin Smith Directs Stan Lee Directing Kevin Smith In 'Cameo School'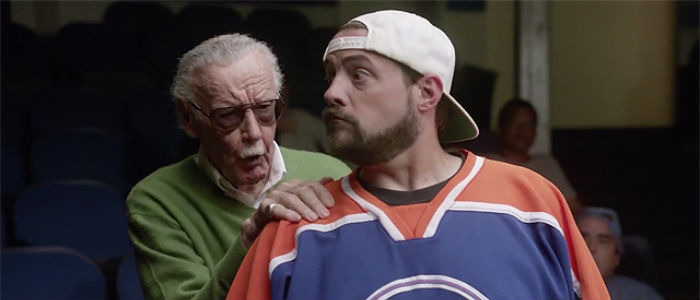 Let's be honest. When you think of cameos in movies today, you think of Stan Lee. The Marvel legend obviously didn't invent the cameo, but he's made it his own over the past twenty years in everything from the Marvel Cinematic Universe to the Spider-Man films, X-Men films and even Mallrats. That last one, more of an extended cameo, was directed by Kevin Smith who himself has had a good run with cameos both as an actor and director.
So what better combo than Lee and Smith to do a quick short called Cameo School which itself features some funny cameos? Smith directed Lee, who stars, but Smith also appears. Check it out below.
The video was created by Audi.
Stan Lee Cameo School
Note – this is certainly where this below photo was taken, which pretty must started the Mallrats 2 casting:
Goin' back to the MALL, ya'll! @TheRealStanLee, @JayMewes @RookerOnline & me make a # 2. A pre-review of the movie? pic.twitter.com/vKOeotK2I1

— KevinSmith (@ThatKevinSmith) March 20, 2015
What did you think of Cameo School? Here's the official info.
Discover the hidden talents of comic book legend Stan Lee as he teaches a very unique acting class. Directed by Kevin Smith and starring Tara Reid, Michael Rooker, Lou Ferrigno, Jason Mewes, and an Audi S8, it's time for the world to appreciate the subtle art of cameo acting.