'Avatar'-Themed Cirque Du Soleil Show Coming This Fall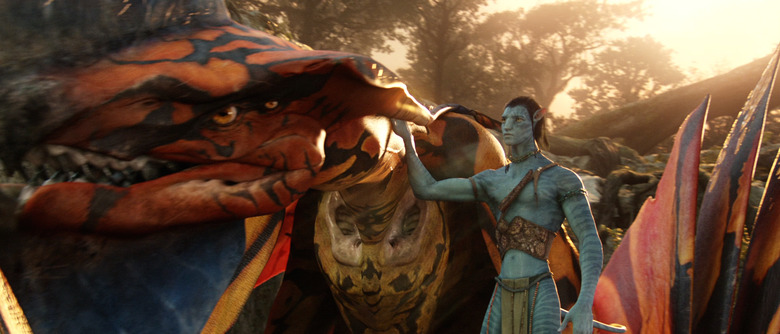 We've still got another two and a half years to wait until the next Avatar sequel hits theaters — and that's assuming James Cameron doesn't blow this deadline like he has a couple others. But in the meantime, the franchise continues to branch out in other ways.
Cirque du Soleil has just announced plans for TORUK – The First Flight, an Avatar-inspired show arriving this fall. Get all the details on the Avatar Cirque du Soleil show after the jump.
Here's the
description
for TORUK – The First Flight, from Cirque du Soleil and James Cameron's Lightstorm Entertainment:
TORUK – The First Flight envisions a world beyond imagination set thousands of years before the events depicted in the film. The word Toruk, in the Na'vi language, refers to the great leonopteryx, the mighty red and orange predator that rules the Pandoran sky. Central in Na'vi lore and culture, this fascinating creature is crucial to the Na'vi clans' sense of destiny and interconnectedness – and is about to be ridden for the very first time by a Na'vi.
If you've seen the movie, the leonopteryx is the giant beast that Jake manages to ride, winning the respect of all the Na'vi in the process. (As seen in the image above.) Jake is only the sixth individual ever to accomplish that feat; the Cirque du Soleil show will focus on the first.
The Cirque du Soleil
Avatar
show was
first announced last year
. Unlike the
Avatar
movies, the Cirque du Soleil production is progressing right on schedule. TORUK – The First Flight will tour across North America starting November 2015.
TORUK – The First Flight is the latest of many non-movie Avatar franchise extensions. Also in the works are a
traveling exhibition
debuting in fall 2016 and
Avatar Land
, planned for early 2017. Avatar 2 is currently on track to open in December 2017.
Cirque Club members can buy tickets starting
April 30
for performances in the following cities:
Lafayette, Louisiana
Montreal, Quebec
Auburn Hills, Michigan
North Little Rock, Arkansas
North Charleston, South Carolina
Tulsa, Oklahoma
Kansas City, Missouri
Louisville, Kentucky
Cincinnati, Ohio
Hamilton, Ontario
London, Ontario
Providence, Rhode Island
Raleigh, North Carolina
Check out a teaser below, and visit CirqueduSoleil.com/Toruk for more info.