'Black-Ish' Creator To Script 'Good Times' Movie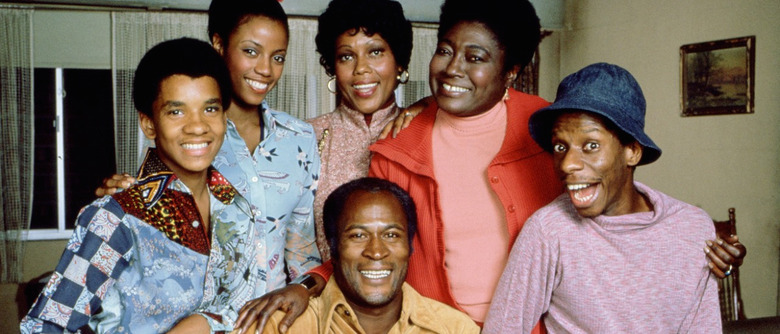 These are good times for Good Times. The classic '70s sitcom is getting revived as a feature film, as first announced in 2013, and now it's taking a big step forward as Kenya Barris (Black-ish) is set to write. Get more details on the Good Times movie after the jump.
Deadline
reported the news. Like the original
Good Times
series, which aired on CBS from 1974 to 1979, the
Good Times
movie will follow a black family living in a Chicago housing project in the 1960s. Scott Rudin and Eli Bush are producing the feature.
Good Times was a spinoff of Maude, which itself was a spinoff of All in the Family. All three shows were produced by Norman Lear (along with Sanford and Son, One Day at a Time, and The Jeffersons), and all were comedies that nevertheless told stories about difficult social and political issues.
Barris is coming off of the first season of ABC's Black-ish, a sitcom about an upper-middle-class African-American family. Black-ish has been a success on all fronts, earning strong critical praise while also drawing healthy reviews. It's likely to be renewed for a second season, although ABC hasn't issued any official confirmation yet.
While the wealthy Johnsons of Black-ish seem like a far cry from the struggling Evanses of Good Times, it's not hard to see why Barris was picked for the job. He clearly has a strong awareness of race and class, and has demonstrated a knack for balancing those complicated realities with lighthearted laughs.
Prior to Black-ish, Barris wrote and produced BET's The Game, and Fox's I Hate My Teenage Daughter, and co-created America's Next Top Model. He is set to write Barbershop 3 and recently sold a pitch to New Line called White Boy Problems, which will star and be produced by Ice Cube.