The 'Suicide Squad' Joker Revealed By Director David Ayer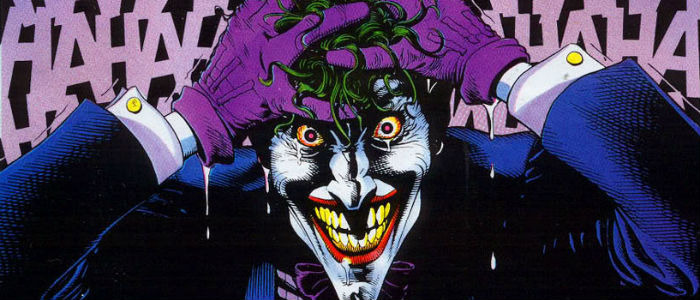 Why does the Suicide Squad joker have his own dialogue tattooed on his body? For weeks we've seen director David Ayer and actor Jared Leto teasing the gradual transformation into the clown prince of crime. But as seen in a final image posted by Ayer, this Joker is more like a clown prince of crazy, or, well... just see him below.
Here's Ayer's tweet. A larger version of the image is below.
The Suicide Squad wishes you a Happy Anniversary Mr. J! #Joker75 #SuicideSquad @WarnerBrosEnt @DCComics pic.twitter.com/LZXz0x947Q

— David Ayer (@DavidAyerMovies) April 25, 2015
OK, there's a lot here. First up, compare this image to the pic from The Killing Joke we've used in the header. There's a clear similarity in pose. But not only that — this joker doesn't just laugh. He's got the sort of laughter you might see stylized by a comic book letterer actually tattooed on his body. Is this guy a maniac, or an edgy model with a burgeoning Instagram following?
The purple latex glove is kind of a nice touch, though. That's the most genuinely creepy thing about this image. But who knows what he'll be like when he's actually walking and talking? Maybe this will work really well. So we'll withhold judgement until seeing him in motion.
Suicide Squad is shooting now in Toronto, and will be released on August 5, 2016.
In addition to featuring Jared Leto as the Joker, the cast also has Will Smith as Deadshot, Margot Robbie as Harley Quinn, Joel Kinnamanas Rick Flagg, Cara Delevingne as Enchantress, Jai Courtney as Captain Boomerang, and Viola Davis is Amanda Waller.
Also starring are Common, Adewale Akinnuoye-Agbaje, Jim Parrack, Jay Hernandez, Karen Fukuhara, Adam Beach, Scott Eastwood, and Ike Barinholtz.