Wagner Moura Is One Of 'The Magnificent Seven'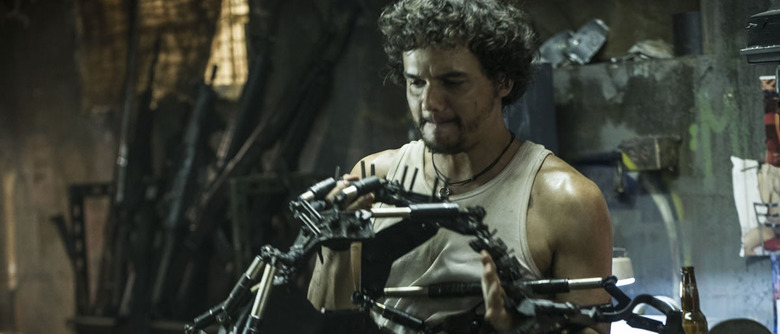 Antoine Fuqua's Magnificent Seven is getting close to that lucky number. Wagner Moura (Elysium) has just been added to the cast, joining Denzel Washington, Chris Pratt, Ethan Hawke, Haley Bennett, Vincent D'Onofrio, and Luke Grimes. That's seven cast members, but not all of them are part of the capital-S Seven. More on the Magnificent Seven Wagner Moura casting after the jump. 
Scripted by Nic Pizzolatto (True Detective) and rewritten by John Lee Hancock (The Blind Side), the new Magnificent Seven takes place shortly after the Civil War, in a town threatened by a ruthless gold mining baron and his thugs. Finally, the widow (Bennett) of one of their victims decides she's had enough. She hires a bounty hunter (Washington), who rounds up six more gunslingers to help defend the town.
That's the same basic plot as the original Magnificent Seven from 1960, which starred Yul Brynner and Steve McQueen. (That movie was itself a remake, of Akira Kurosawa's 1954 masterpiece Seven Samurai.) But the upcoming remake won't be a beat-for-beat copy of the original, as the characters aren't all based on the 1960 characters.
Empire reports Moura will play Vasquez, one of the Seven. Also part of the Seven is D'Onofrio, contradicting earlier reports that he would play the villain. The actor took to Twitter to set the record straight:
HEY FOLKS ! The reports I'm playing the baddy not true . I'm one of the #THEMAG7 a great role . V. pic.twitter.com/oRUNuqEoI5

— Vincent D'Onofrio (@vincentdonofrio) April 12, 2015
Moura is a Brazilian actor best known in the U.S. for playing Spider in Neill Blomkamp's Elysium. (The movie itself was a mess, but that was hardly Moura's fault.) He'll next be seen as legendary drug kingpin Pablo Escobar in the upcoming Netflix series Narcos. That project reunites Moura with José Padilha, who directed him in Elite Squad and its sequel.
Magnificent Seven is expected to shoot this spring, so look for the Seven to get locked into place before long. No release date has been announced.