'Black Mass' Trailer: Johnny Depp Is Gangster Turned Informant Whitey Bulger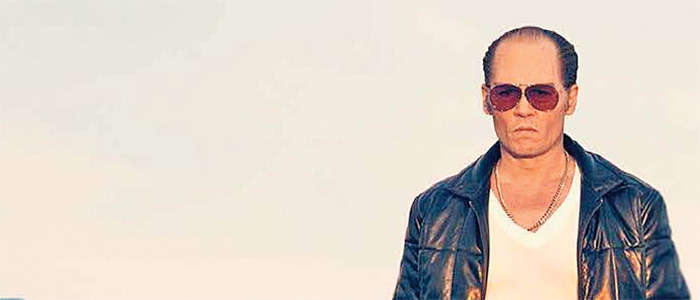 Hollywood doesn't give us a lot of great gangster movies anymore, so when there's one on the horizon that looks promising, we all get excited. Is this the next Scarface, White Heat, Goodfellas or Godfather? We don't know yet, but Black Mass certainly has a shot at success.
Directed by Scott Cooper (Crazy Heart) the film stars Johnny Depp as Boston gangster Whitey Bulger, who became an FBI informant to help take down the Italian mob. The film co-stars Joel Edgerton, Benedict Cumberbatch, Kevin Bacon, Dakota Johnson, Peter Sarsgaard, Jesse Plemons, Corey Stoll, Rory Cochrane, Sienna Miller, Adam Scott and opens in September.
Below, watch the first Black Mass trailer.
The trailer is online via Apple.
Black Mass Trailer
Talk about an intense trailer. At first, I saw a lot of Johnny Depp on screen instead of the character. Maybe it was the contacts. As the trailer goes on though, and you start to see Bulger get more focused, the actor begins to fade away. I also love how basically this is just one scene used to tease you of what's to come. There isn't much actual meat here (except, you know, literally) but you get the sense of this cast, the tone, and what's likely to be a powerful lead performance.
Cooper's last film Out of the Furnace, while not a financial success, showed that he's got an ability to tell these kind of suspenseful, real life stories. Now, filter that through the story of Bulger and Black Mass might be something special.
The film opens September 18 and was written by Mark Mallouk and Jez Butterworth:
In 1970s South Boston, FBI Agent John Connolly (Joel Edgerton) persuades Irish mobster James "Whitey" Bulger (Johnny Depp) to collaborate with the FBI and eliminate a common enemy: the Italian mob. The drama tells the true story of this unholy alliance, which spiraled out of control, allowing Whitey to evade law enforcement, consolidate power, and become one of the most ruthless and powerful gangsters in Boston history.