Another 'Age Of Ultron' Cast Member Goes To 'Civil War'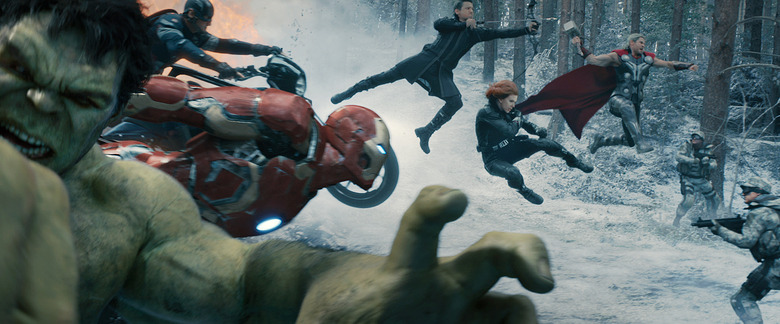 We know some of the Avengers cast is going to end up in Captain America: Civil War. Robert Downey, Jr. and Chris Evans will reprise their roles, and not-yet-an-Avenger Chadwick Boseman is going to be on hand as Black Panther. The events of Avengers: Age of Ultron lead directly to the next Cap chapter, and now we know one other character who will definitely carry over.
Who is it? We'll tell you below, but note that there's the possibility that revealing the carryover character could count as a spoiler for Age of Ultron.
CBM notes that, during a "Meet The Filmmakers" event at the Apple Store in London, Elizabeth Olsen confirmed that she will show up in Civil War as Wanda Maximoff aka Scarlet Witch. Asked about the possibility of being in the cap sequel she said yes, and noted "I guess I'm allowed to talk about that now."
She also said that she'll be on hand when the film begins to shoot in Atlanta in a couple weeks, but it will be a while before we know much about the extent of her role in the film.
Captain America: Civil War opens on May 6, 2016. Anthony and Joe Russo are directing.
Following the events of Age of Ultron, the collective governments of the world pass an act designed to regulate all superhuman activity. This polarizes opinion amongst the Avengers, causing two factions to side with Iron Man or Captain America, which causes an epic battle between former allies.