The Jonathan Levine, Seth Rogen Christmas Movie Is Called 'X-Mas'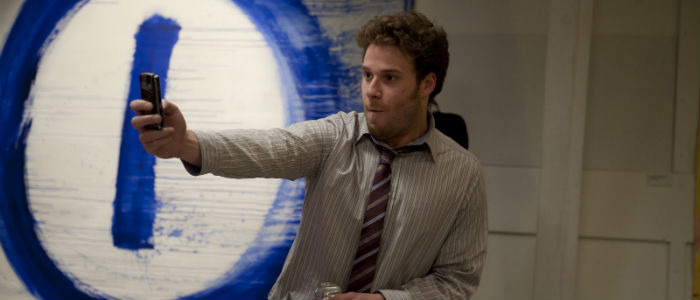 The team from 50/50 is back and X marks the spot. Director Jonathan Levine's previous untitled Christmas movie starring Seth Rogen, Joseph Gordon-Levitt and Anthony Mackie is now officially called X-Mas, which is a title Rogen was toying with while on set a few months back.
Not much is known in the way of specifics about the film, but the title was revealed in an image at CinemaCon that featured the three stars in super ugly Christmas sweaters (or, in Rogen's case, a Hanukkah sweater) posing for a Christmas card like they're rappers. Read more about Seth Rogen X-Mas below.
The film will be released on November 25, against Ridley Scott's The Martian, Pixar's The Good Dinosaur, and the Rocky spinoff Creed. So, that's a lot of stiff competition, meaning Sony has confidence in the comedy.
All we know about the movie plot wise that it follows three friends who reunite in New York City to party on Christmas Eve.
Now that we know the title is X-Mas, it raises a bunch of questions. Does the "X" mean like the movie rating? Will this be a very raunchy Christmas celebration? Or is is about friends all coming back together, so "X-Mas" is more like the "X-Men." When Rogen teased this title on Twitter last year, the X-Mas title was in the same font as X-Men.
We'll have more on X-Mas as we get closer to its release. For now, what do you think about these group coming back together?