POTD: Disney's Packed Theatrical Slate Through Summer 2017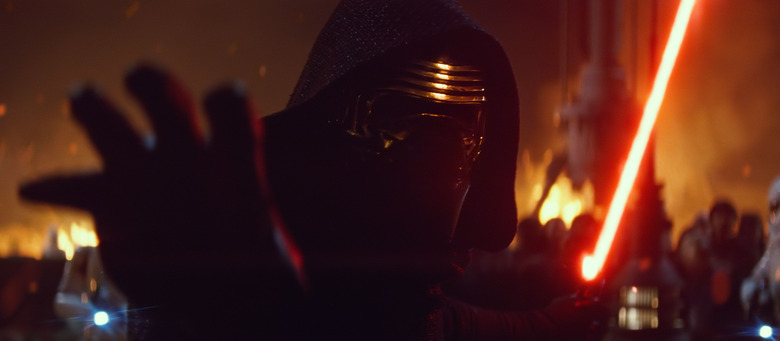 With Pixar, Marvel and Lucasfilm under their banner, it's pretty obvious Disney has some of the biggest movies coming out over the next few years. Add in Disney Animation, DreamWorks and their live action fare, and it gets even bigger. However, until you see all of those films represented in a single image, it's difficult to grasp the scope of Disney's impressive release schedule.
It's not exactly news, but at CinemaCon 2015, which is currently taking place in Las Vegas, Disney showed an image with all of their announced theatrical releases stretching through the summer of 2017. It's absolutely mind-boggling. Below, see the image of Disney movies release dates, and the full list of movies.
The image was tweeted by our own Peter Sciretta, but here it is blown up:
Disney Movies Release Dates Summer 2015-Summer 2017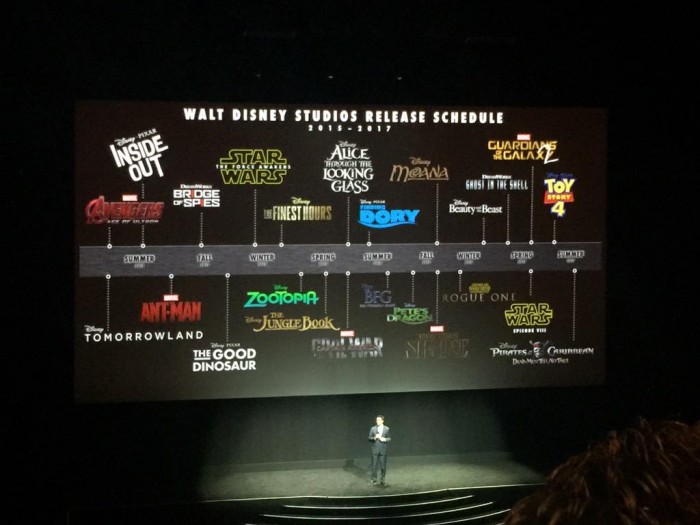 These have all previously been revealed but let's run them down:
Avengers: Age of Ultron – 5/1/15
Tomorrowland – 5/22/15
Inside Out – 6/19/15
Ant-Man – 7/17/15
Bridge of Spies – 10/16/15
The Good Dinosaur – 11/25/15
Star Wars: The Force Awakens – 12/18/15
The Finest Hours – 1/29/16
Zootopia – 3/4/16
The Jungle Book - 4/15/16
Captain America: Civil War – 5/6/16
Alice Through the Looking Glass – 5/27/16
Finding Dory – 6/17/16
The BFG – 7/1/16
Pete's Dragon – 8/12/16
Doctor Strange – 11/4/16
Moana – 11/23/16
Star Wars Anthology: Rogue One – 12/16/16
Beauty and the Beast – 3/17/17
Ghost in the Shell – 4/14/17
Guardians of the Galaxy 2 – 5/5/17
Star Wars: Episode VIII – 5/26/17
Toy Story 4 – 6/16/17
Pirates of the Caribbean: Dead Men Tell No Tales – 7/7/17
The image stops here, but Box Office Mojo has the rest of it, and it's still crazy:
Thor: Ragnarok – 11/3/17
Untitled Pixar Animation – 11/22/17
Untitled Disney Animation – 3/9/18
Avengers: Infinity War Part I – 5/4/18
Untitled Pixar Animation – 6/15/18
Black Panther – 7/6/18
Captain Marvel – 11/2/18
Untitled Disney Animation – 11/21/18
Avengers: Infinity War Part II – 5/3/19
Inhumans – 7/12/19
And that's not including the next Star Wars Anthology film, which will likely be out in 2018, or Star Wars Episode IX, which will likely be out in 2019. I'd also venture to guess one of those untitled Pixar Animation films is The Incredibles 2 and one of the Untitled Disney Animation films is Frozen 2. It's absolutely incredible.
Can you think of any studio that comes close to this? Which are you most excited for?