Bill Condon's 'Beauty And The Beast' Adds Stanley Tucci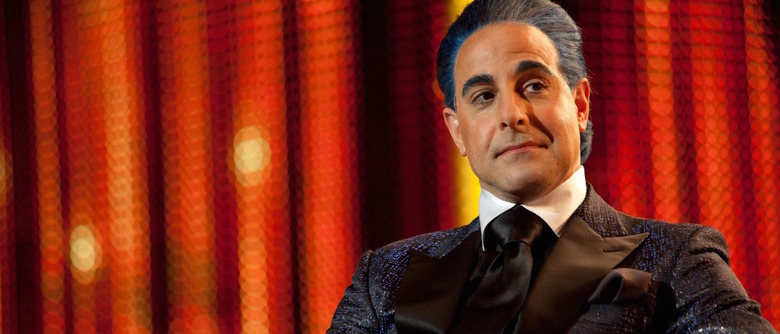 Disney still isn't done adding notable actors to Beauty and the Beast. Stanley Tucci has just come aboard the live-action remake, which is being directed by Bill Condon. And if you're scratching your head wondering whom he could possibly be playing, well, there's a good reason for your confusion. Get details on the Beauty and the Beast Stanley Tucci casting after the jump. 
Yesterday we wrote that with Ewan McGregor set to play Lumiere, all of the major roles from Disney's 1991 animated feature had been filled. But now it seems Disney is making up entirely new characters to accommodate all the big-name actors who want in. Variety reports Tucci has closed a deal to play Cadenza, a grand piano described as a "neurotic maestro."
Besides the addition of Cadenza, a few existing servant roles seem to have been plumped up for the remake. The wardrobe, who didn't even have a name in the animated movie, has been dubbed Garderobe and will be played by Tony winner Audra McDonald. Similarly, feather duster Fifi has been renamed Plumette and will be portrayed by Gugu Mbatha-Raw.
Also on board are Ian McKellen as Cogsworth and Emma Thompson as Mrs. Potts. Moving outside the servants' quarters, Beauty and the Beast stars Emma Watson as Belle, Dan Stevens as the Beast, Luke Evans as Gaston, Josh Gad as Lefou, and Kevin Kline as Maurice.
Tucci currently plays Caesar Flickerman in the Hunger Games franchise, which wraps up this fall with Mockingjay – Part 2. He'll also be seen later this year in Spotlight, Thomas McCarthy's drama about the Catholic Church child abuse scandal. In addition, he just finished leading the first season of the U.K. crime drama Fortitude.
Evan Spiliotopoulos wrote Beauty and the Beast, with Stephen Chbosky contributing rewrites. Alan Menken and Tim Rice are composing original songs to go with re-recordings of the classic numbers. Beauty and the Beast opens March 17, 2017.