'Point Break' First Look: Luke Bracey And Edgar Ramirez Are The New Keanu Reeves And Patrick Swayze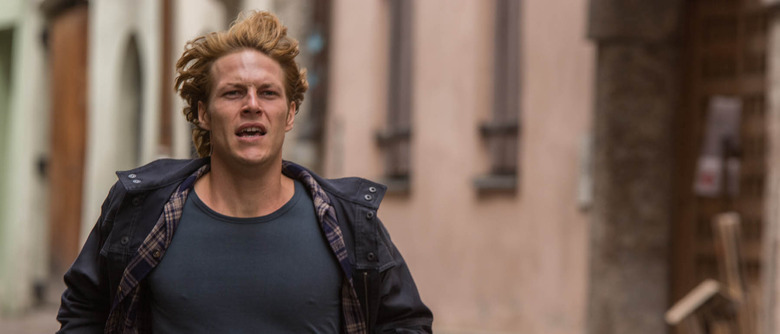 Warner Bros. and Alcon Entertainment have revealed the first look at Point Break, the Ericson Core-directed remake of Kathryn Bigelow's 1991 classic. Luke Bracey and Edgar Ramirez are the new Keanu Reeves and Patrick Swayze, or at least the new Johnny Utah and Bodhi. Do they live up to the originals? Get your Point Break first look after the jump.
First, let's set the scene with the first official synopsis. Basically, the new Point Break is the same as the old Point Break, only with extreme sports instead of just surfing.
In the fast-paced, high-adrenaline "Point Break," a young FBI agent, Johnny Utah (Luke Bracey), infiltrates a cunning team of thrill-seeking elite athletes – led by the charismatic Bodhi (Edgar Ramirez).  The athletes are suspected of carrying out a spate of crimes in extremely unusual ways.  Deep undercover, and with his life in imminent danger, Utah strives to prove they are the architects of this string of inconceivable crimes.  The film is replete with the most daring athleticism ever seen in a motion picture.  These action adventure feats are performed by elite athletes representing the world's best in class in big-wave surfing, wingsuit flying, sheer-face snowboarding, free rock climbing, and high-speed motorcycling.
And now that you know what it's about, here are the first images.
They're not much to look at. Mostly they just show us what Bracey and Ramirez will look like in the movie. I assume Bracey's Johnny Utah is on his way to firing his gun up in the air and going aaaghh.
More revealing was the Point Break footage screened at CinemaCon. While we don't have an embed to share with you, you can live vicariously through these second-hand reactions.
Point Break reboot is an extreme sports 3d heist film, but the clip/trailer I saw seem to lack the fun of the original #CinemaCon

— /Film (@slashfilm) April 22, 2015
The filmmakers and actors are talking about how much the original means to them. New footage looks crazy. Hope it's a fun ride.

— Steven Weintraub (@colliderfrosty) April 22, 2015
Point Break didn't move me. But the flying suits were cool. #CinemaCon

— Christina Warren (@film_girl) April 22, 2015
The POINT BREAK remake shifts the action from surfing to extreme sports — looks intense. And maybe just as homoerotic. #CinemaCon

— Adam B. Vary (@adambvary) April 22, 2015
Point Break just looks like it takes itself a little too seriously. Not sure abt that Christmas release date either. You need STARS for XMas

— Jeff Sneider (@TheInSneider) April 22, 2015
Got a mixed impression from POINT BREAK trailer which was mostly people parachuting around. Luke Bracey is no Keanu...

— Jeff Sneider (@TheInSneider) April 22, 2015
Overall, it seems like everyone agrees the action was "crazy," but also that the Point Break remake is no Point Break.
Point Break lands in theaters December 25, 2015. Teresa Palmer is the new Lori Petty and Ray Winstone is the new Gary Busey, in case you were wondering.