Warner Bros. Also Has A Robin Hood Movie In Development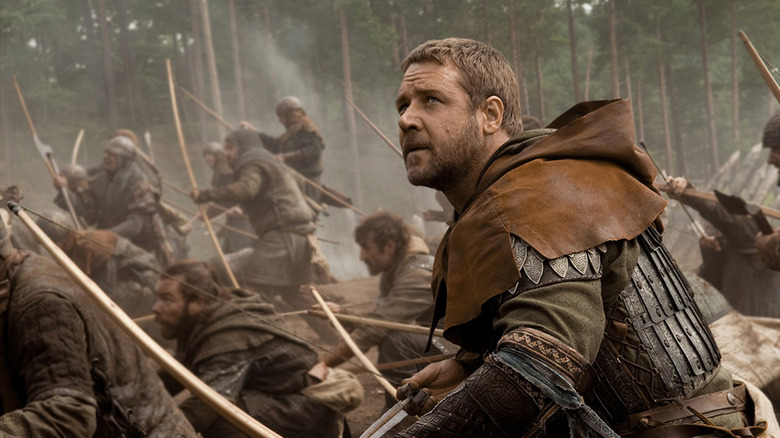 Pretty soon there will be more Robin Hood movies in development than there are Merry Men. Warner Bros. is following Sony, Disney, and Lionsgate into Sherwood Forest with its own take on the outlaw hero, scripted by Aquaman and Gangster Squad writer Will Beall. Get all the details on the Warner Bros Robin Hood movie after the jump. 
Deadline broke news of the Warner Bros Robin Hood project. Dan Lin (The Lego Movie, Sherlock Holmes) is producing, but the one thing we know about the premise is that it's not a Lego movie. John Zaozirny will also produce. Zaozirny and Beall previously worked together on the crime series Castle.
Warner Bros.' is the fourth Robin Hood film currently in development. Last fall Sony spent a princely sum to acquire a Robin Hood pitch from Cory Goodman and Jeremy Lott, described as a "reimagining" of the tale that would put the characters in a Marvel-style shared universe.
Disney quickly followed suit with Nottingham & Hood, a "revisionist" take likened to the studio's own Pirates of the Caribbean franchise. Brandon Barker wrote that script. And just a few weeks ago Lionsgate bought Robin Hood: Origins, a gritty Batman Begins-esque retelling penned by Joby Harold.
Before any of that, DreamWorks had plans to make Merry Men, a revenge thriller a la Ocean's Eleven or The Dirty Dozen. Scott Waugh was set to direct from a script by Brad Ingelsby. But we haven't heard about that one in a while, so maybe we can count it out for now.
The appeal of Robin Hood is obvious. He's a popular character that's endured for hundreds of years, so there's instant name recognition. Because he's been around so long, he's also in the public domain, so there are no complicated legal issues to figure out. And it's actually been a while since we had a big Robin Hood-centric adventure, so the time is ripe for a new incarnation of the hero. (OK, maybe not that long — Ridley Scott's Robin Hood, seen above, was out in 2010.)
But when it rains, it pours, and now it looks like we've got more Robin Hood movies than anyone knows what to do with. The race is on for all the studios to get to the starting line.