Dave Coulier Confirmed For Netflix's 'Full House' Spinoff 'Fuller House' [Update]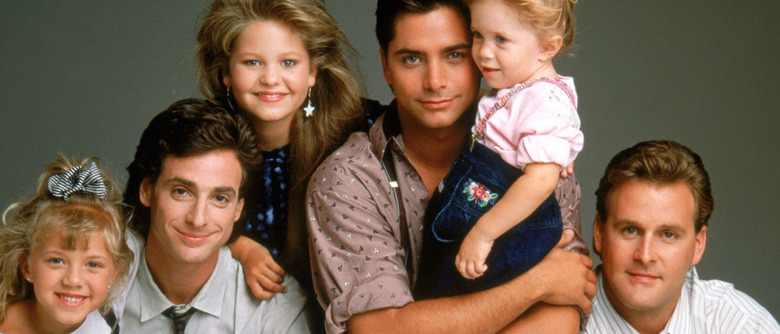 Update From Editor Peter Sciretta: Dave Coulier (Uncle Joey) has confirmed on twitter/instagram that he will be reuniting with John Stamos (Uncle Jesse) for the Full House spin-off with Mark Cendrowski directing. Angie's original story from April 21st 2015 follows.
Netflix is making it official. The streaming service has given a 13-episode order for Fuller House, a multi-cam spinoff of the '80s and '90s ABC sitcom Full House. The show is expected to hit in 2016. Hit the jump get all the details on the Netflix Fuller House show, including new plot info.
John Stamos broke the news on Jimmy Kimmel Live. According to him, the idea is to get the original cast together for an hourlong reunion special and then go into the spinoff. It's unclear whether the hourlong special will be part of the 13-episode order, or air separately.
In Fuller House, D.J. Tanner-Fuller (Candace Cameron Bure) is all grown up and working as a veterinarian in San Francisco. When her husband dies while she's still pregnant, she finds support from her sister Stephanie (Jodie Sweetin), an aspiring musician; and her BFF Kimmy (Andrea Barber), a single mom.
Along with Kimmy's teen daughter Ramona, the two women move in with D.J. to help her raise her sons: rebellious 12-year-old J.D., neurotic 7-year-old Max, and the newborn. In other words, it's exactly the premise of the original Full House, only with the genders reversed.
Stamos is producing and will guest star as Uncle Jesse. He and Full House executive producers Thomas L. Miller and Robert L. Boyett have been trying for years to get a Full House revival off the ground. At one point it was envisioned as a movie, but over the past year or so plans for a TV show started to pick up steam.
Bob Saget, Dave Coulier, and Lori Loughlin are in talks to reprise their roles as well. Even Mary-Kate and Ashley Olsen might drop by for a cameo. Discussions with the twins, who jointly played baby of the family Michelle Tanner, are said to be "ongoing."
Watch Stamos announce Fuller House on Jimmy Kimmel Live below:
[Additional source: TV Line]