Cool Stuff: Tom Whalen's Pulp Menagerie Mondo Gallery Show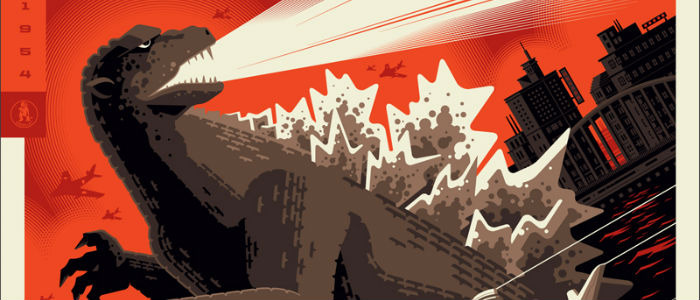 Mondo has released an early look at their next gallery exhibit. It's by /Film favorite Tom Whalen and is called Pulp Menagerie. The screenprint poster show opens May 22 at the Mondo Gallery in Austin Texas and, below, you can see the first few images centering on the subjects of Batman, Godzilla and more. Check out the first images from the Tom Whalen Mondo Gallery solo show.
Here are the first preview images:
Tom Whalen Mondo Gallery - Pulp Menagerie
Pulp Menagerie opens from 7-10 p.m. May 22 and will remain on display through June 6 at the Mondo Gallery, 4115 Guadalupe Street, Austin, TX.
Here are the break downs of each piece.
Godzilla
24" x 36"
Edition of 250
Godzilla (English variant)
24" x 36"
Edition of 125
Mad Monster Party
18" x 24"
Edition of 250
Mad Monster Party (Variant)
18" x 24"
Edition of 125
Batman (1940's Era)
12" x 36"
Edition of 275
Here's here's some more info on Tom, via his official Bio:
Raised by feral robot wolves in the backwoods of Northeastern Pennsylvania and nourished on a steady diet of comic books, Arnold Schwarzenegger movies and Swedish Fish, Tom Whalen has a high-pitched, metallic voice in his head that compels him to endlessly churn out all sorts of vectorized madness. Infatuated with all things giant, Japanese and city-destroying, Tom is a confessed monster junkie who cannot wait for earth to be overrun by either zombies, werewolves or vampires so that he can field test the wooden-stake-firing chain gun that he's been working on in his basement for the past 40 or so years. He also adores kittens. Introduced to graphic art by the likes of ditko, lee, mcfarlane, and simonson at an early age, Tom formally studied illustration and design at Kutztown University before working as a graphic designer and an editorial illustrator.
In addition to his work with Mondo, Tom has created artwork for entertainment giants like Disney, Warner Brothers, Nickelodeon, Paramount as well as musical artists The Beatles, The Black Keys, Jack White, Primus and more.