Video Tour Shows Off 'Batman V Superman' Costumes And Batmobile [Updated With More Footage]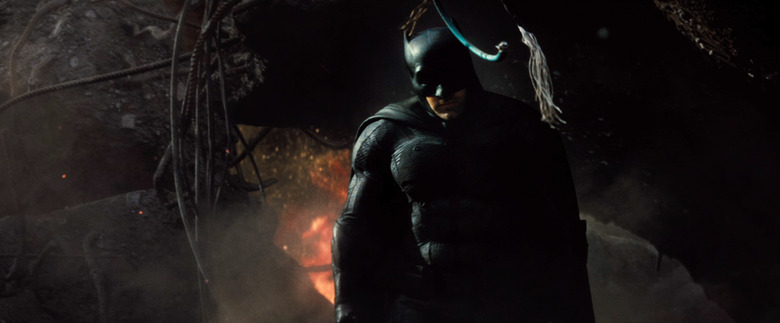 Last week was a weird one for Zack Snyder and his film Batman v Superman: Dawn of Justice. The film's first trailer was briefly teased on Instagram, then released online in low-quality bootleg form, forcing Warner Bros. to officially release the trailer days in advance of its planned theatrical IMAX debut. (That's still happening tonight.) But that's all out there now, so we'll just move forward. Now you can get a look at the primary Batman v Superman costumes thanks to a video featuring NBA star DeAndre Jordan checking out a Warner Bros. exhibit of the suits and new Batmobile.
UPDATE: B-Roll footage has now been put online with a much more detailed look at the costumes.
This video comes via Bleacher Report.
And in case you're wondering, the IMAX debut of the Batman v Superman trailer, scheduled for tonight, will feature stuff not seen in the online trailer. How much stuff? "A few extra shots," says Snyder. Maybe that means we'll get a glimpse at a couple other characters in motion, like Wonder Woman and/or Aquaman.
Cell Phone v IMAX. IMAX Event BvS fans will still be first & only to see special IMAX BvS teaser #AFewExtraShotsPlusALittleSwag #NotPirated

— Zack Snyder (@ZackSnyder) April 17, 2015


Batman v Superman: Dawn of Justice stars Henry Cavill, Ben Affleck, Amy Adams, Laurence Fishburne, Jesse Eisenberg, Gal Gadot, Diane Lane, Jeremy Irons, Holly Hunter, Scoot McNairy, and Jason Momoa and opens in theaters on March 25, 2016.
UPDATE: Bleacher Reporter gave Comic Book the B-Roll from their visit. Check it out and head to the link for more images.