Another New 'Jurassic World' Poster Hits; New Trailer Out Monday [Updated]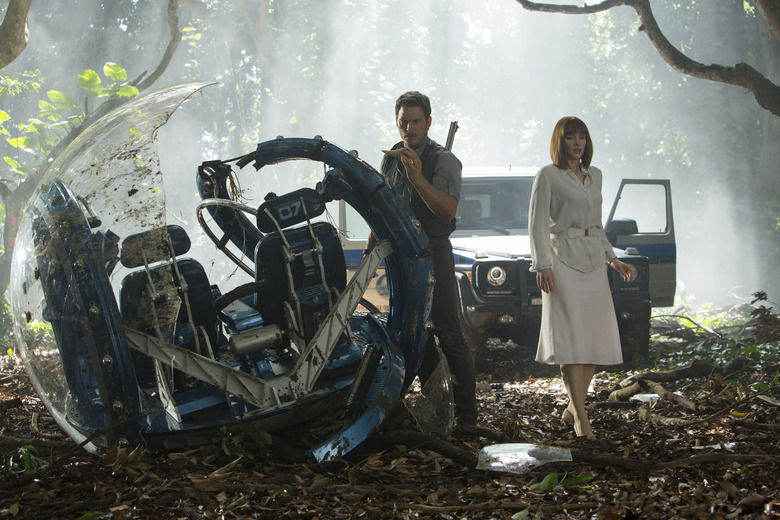 History repeats itself this summer with Jurassic World. Both in the sense that we're getting a new Jurassic Park sequel 22 years after the original opened, and in the sense that once again the story centers around a bunch of humans arrogant enough to believe that opening a park full of big, vicious predators is a great idea.
Not to get too spoiler-y about it, but we all know this is going to go terribly wrong for them. Otherwise, there'd be no movie. A new Jurassic World poster teases the very uneven battle to come, ahead of a new trailer due out next week. See the new Jurassic World poster after the jump.
Update: Another new Jurassic World poster has been revealed featuring the mighty Mosasaurus. Check it out after the jump.
Director Colin Trevorrow shared the new Jurassic World poster on Twitter.
"How can we stand in the light of discovery and not act?" pic.twitter.com/JBssyMijhC

— Colin Trevorrow (@colintrevorrow) April 17, 2015
Update: And here's that other poster.
"We've made living biological attractions so astounding that they'll capture the imagination of the entire planet." pic.twitter.com/CcPZgMNjaw

— Colin Trevorrow (@colintrevorrow) April 18, 2015
Here's a closer look at the new posters.
The face-off between two enemies is a pretty common movie poster format. But the characters are usually around the same size, or at least seem to exist on the same scale. Bryce Dallas Howard's Claire Dearing is a speck compared to that Indominus Rex. Her shins are roughly the same length as the lizard's nostrils. Fortunately she's got a wall protecting her for now, but what happens when that glass inevitably shatters?
Well, we've got a couple of months to go before we get the full answer to that last question. Until then, we've got some new footage to look forward to. Universal announced that the next Jurassic World trailer will drop Monday morning (April 20).
Jurassic World stomps into theaters on June 12. Chris Pratt, BD Wong, and Irrfan Khan also star.
Steven Spielberg returns to executive produce the long-awaited next installment of his groundbreaking Jurassic Park series, Jurassic World. Colin Trevorrow directs the epic action-adventure based on the novel "Jurassic Park" by Michael Crichton. Frank Marshall and Patrick Crowley join the team as producers.